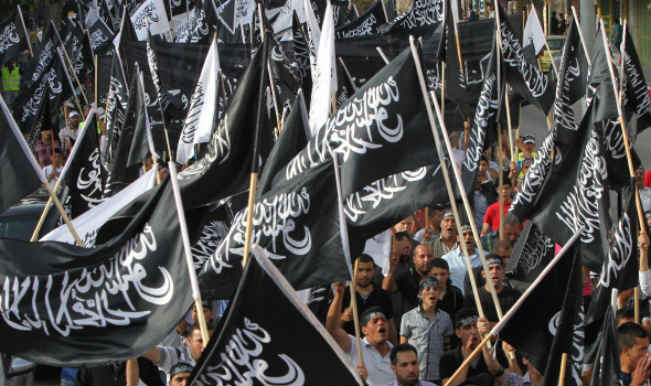 After getting complaint from New Jersey residents, Homeland Security forced a Muslim boy to remove a black flag which was similar to ISIS militants, who are being bombed by US force in Iraq. However, the man has claimed that he was just expressing his religion. Mark Dunaway who said that he had been flying the flag which had Arabic inscription which meant 'There is no God but God, and Muhammad is the messenger of God' said, "I'm Muslim, and I fly a flag in front of my home that says I'm a Muslim"
According to Dunaway, he used to hoist the flag during Ramdaan and on every Friday. After the Garwood Police Department received a complaint about the flag, they visited Dunway's house which amazed him. However, when police approached him he took down the flag. "Mr. Dunaway was very receptive when we approached him with our concerns and he voluntarily took the flag down," said the police official.
The issue emerged when Marc Leibowitz, who received the photo of Dunway's residence with the flag from his friend, posted on the social networking site, Twitter. According to Marc, he doubted a member of ISIS would openly fly the flag, but that the situation was "disturbing and worth looking into," that is why he informed the Homeland Security.
Ibrahim Hooper, a spokesman for the Council on American-Islamic Relations tried to clarify the meaning of the words written on flag. "The flag is a profession of Muslim faith. This is not the ISIS flag. Every Muslim in America has this phrase somewhere in their home," he said. Police officials also claimed that there were a few threats to damage Dunaway's residence on various social media outlets which is unacceptable. Now, Dunway has removed the flag and explained that he did not mean to offend anyone.
The similar incident has occurred in Tower Hamlet (London) when the local Christian community and local Muslims decided to take down the flag which was also similar to ISIS black flag. However both the flags had Arabic words of Islam and did not relate to ISIS group.