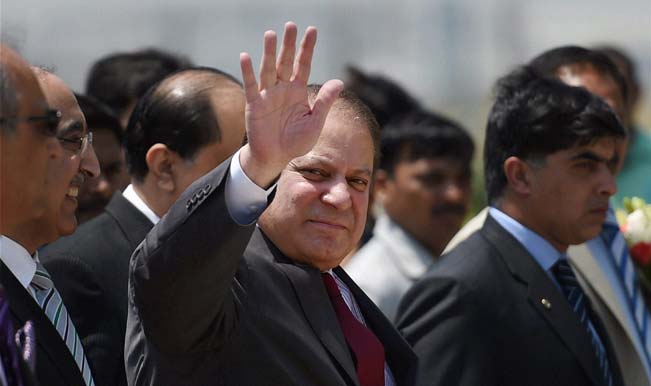 Thousands of anti-government protesters were determined to sack Prime Minister Nawaz Sharif from his seat on Friday. The protesters had also marched towards Islamabad lag-waving convoys as clashes erupted in Gujranwala region after gun-shots were fired at the vehicle of cricketer-turned-politician Imran Khan. Opposition leader Imran Khan was allegedly attacked on Friday by Pakistan Muslim League-Nawaz (PML-N).
Shots were fired at the former Pakistan cricket captain's vehicle but he was not injured, Imran Khan's spokeswoman Aneela Khan said.
Both the Opposition party led by Imran Khan and Canada-based cleric Tahirul Qadri, planned to coincide at Islamabad to reinforce Prime Minister Nawaz Sharif to call an early election, little over a year after his victory in the polls.
There were rumours being widespread through WhatsApp that the Pakistani cricketer-turned-politician Imran Khan has been allegedly shot dead on August 12, 2014. However, the rumours have turned out to be partly true.
Imran khan joined politics with his own political party Tehreek-e-Insaf in 1996, after retiring from cricket. The Pakistani legend has played for almost two decades and was the captain for Pakistan cricket team during their famous 1992 World Cup win.
Confirming the incident of firing at Khan's convoy, Awami Muslim League leader Sheikh Rasheed said they were attacked four times, and alleged that everything happened in the presence of the local police. Rasheed also alleged that these incidents were carried out on the orders of Nawaz Sharif.
There has been internal political conflict between Pakistan Awami Tehrik (PAT), Tehreek-e-Insaf (TEF) and Pakistan Muslim League-Nawaz (PML-N). PAT and TEF are opposing PML-N. Khan claims that Sharif has formed the government through 'rigging' in the General Elections held last year; a claim refuted by the government. Sharif has rejected calls for his resignation and accused Khan of trying to weaken his elected government.