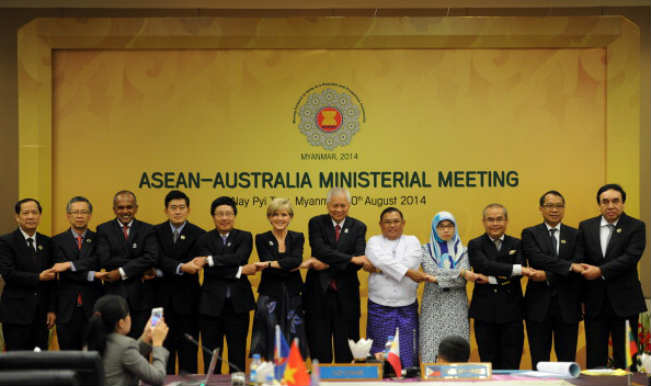 Naypyidaw, Aug 10 : China today vowed "clear and firm reactions" to defend its interests in the South China Sea but rejected suggestions of aggression, as America's top diplomat urged restraint from all claimants to the bitterly contested waters. A series of incidents between Beijing and several other nations with territorial claims to the sea has sent tensions soaring across Southeast Asia and spurred Washington to call for a halt to any activities that could worsen regional maritime relations.
Animosity over the South China Sea, a crucial maritime route that is also believed to hold huge oil and gas deposits, is dominating Association of Southeast Asian Nations (ASEAN) talks in Myanmar, which began Friday and are broadening to include key world powers ahead of security discussions on Sunday. "The position of China to safeguard its own sovereignty, maritime rights and interests is firm and unshakeable," Chinese Foreign Minister Wang Yi told reporters following a meeting with ASEAN counterparts in the Myanmar capital Naypyidaw.
Beijing claims sovereignty over almost the entire sea including waters, islands, reefs, shoals and rocky outcrops nearer to other countries. ASEAN states Brunei, Malaysia, the Philippines and Vietnam also claim parts of the sea, while Taiwan is a sixth claimant. While China always acted with "self restraint", Wang warned "for those groundless provocative activities, the Chinese side is bound to make clear and firm reactions." US Secretary of State John Kerry, who is in Naypyidaw for the regional meet, called on all parties to refrain from actions that could deepen hostilities.
Speaking ahead of bilateral talks with the 10-member ASEAN, Kerry said the US shared a "common responsibility" with the bloc to "ensure the maritime security of critical global seas lanes and ports". "What happens here matters, not just in this region and to the United States, but it matters to everybody in the world to see a Southeast Asia that continues to grow based on rules-based international law," he added. Quoting a 2002 declaration of conduct for the disputed region — also signed by China — Kerry urged claimant states to voluntarily agree to step back from any actions that could "complicate or escalate disputes".
In May relations between China and Vietnam sank to their lowest point in decades after Beijing moved a deep-sea oil rig into disputed waters near the Paracel Islands, triggering deadly anti-China riots in Vietnam. China has now removed the rig, in a move that analysts say was aimed at deflecting accusations of aggression. The 2002 declaration is non-binding, a sticking point for ASEAN nations.
Wang insisted Beijing was ready to listen to "well-intentioned proposals" on managing disputes. But he urged Manila to drop a legal challenge it has filed with the United Nations over China's claims to the most of the sea.