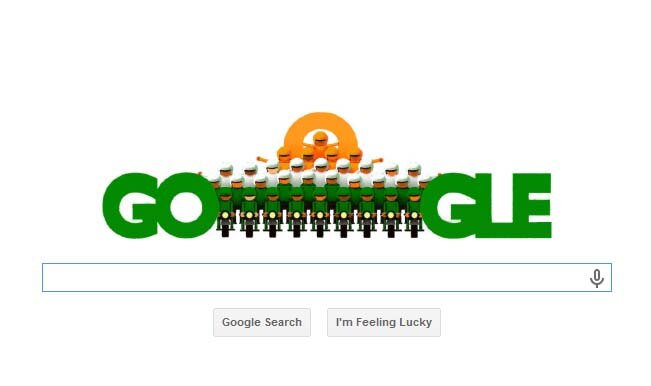 January 26 is India's Republic Day.
Google wished India a Happy 65th Republic Day with a wonderful doodle. To mark the significance of this day, Google has come up with a very innovative style of celebrating Republic Day of India. The doodle depicts a grand parade which a big part of celebrations in India which has stunts performed by Indian soldiers. This is the fourth year when Google has featured a doodle on its home page to mark the Republic Day of India.
One of the three national holidays, Republic Day is significant in the history of India as this is the day when the constitution of India was adopted. Republic Day is not just another holiday or a festive occasion where you get special discounts in malls but the significance of the day lies in the right to be called 'sovereign, secular, democratic, socialist and republic' nation.
India is the largest democratic country in the civilised world and it has become so with the several known and unknown sacrifices made our great leaders and the brave-hearts who set the foundation for the nation we have today.
This day is celebrated to honour and respect all those heroes who gave up their lives to serve the nation and also to honour their families who have suffered innumerable grievances. There are many of us, for whom, this day is nothing more than a holiday. This is an act of utmost hypocrisy to the selfless ones who gave up everything dear to them without asking anything in return. Are we being fair to them and their selfless act? No! So let us feel proud of all those people and also take a pledge to make some difference rather just criticize the system and its ways.
India.com wishes you and all Indians a very Happy Republic Day. For more articles, check out our Republic Day Section.