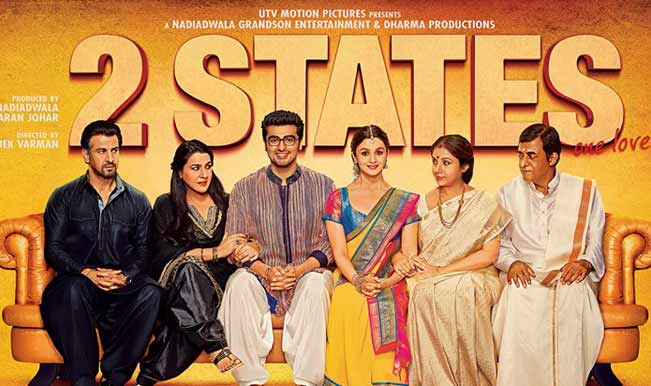 The Alia Bhatt and Arjun Kapoor starring 2 States that released on Friday has surpassed all possible the expectations and is all set to be the biggest hit of the year by collecting a commendable box office estimate of about Rs. 37­ Rs 38 crore net. This movie based on  author
Chetan Bhagat's book earned Rs. 12.42 Crore from on the first day itself, followed by the second day( Saturday) of Rs.12.13 Crore net. But the graph slipped even higher on Sunday when the box office saw it earn Rs.13­ Rs 14 crore making the weekend collection nearly Rs.38 cr. This collection keeps it just marginally behind Jai Ho and Gunday which managed to collect  Rs.58.07 and Rs.48.11 cr respectively.
According to Sanjay Ghai from Mukta Arts "The movie is going houseful without having any Khans or A­listers starring in the film." The VP and Head of Marketing and Distribution, Studios­ Disney India­ Amrita Pandey said, " 2 States had a phenomenal jump start right from morning shows on Friday all over the country and across all centers." By the end of the weekend the movie had recovered its movie expenditure of nearly Rs.36 cr.( including advertising and print costs)
Many cinemas were running full capacities while the other even went ahead to add more shows to screen the movie. The movie was released in nearly 2400 screens worldwide­2000 from India and nearly 30 to 400 screens in 30 countries.
This indeed is a big celebration for the upcoming stars, Alia Bhat and Arjun Kapoor who are grasping immense attention and praises for their role in this movie showing cross cultural marriage between a shy Punjabi boy­ Krish and a spunky spirited south Indian girl­ Ananya. The success has to also be credited Abhishek Varman, a first timer director who did brilliantly for his first movie.