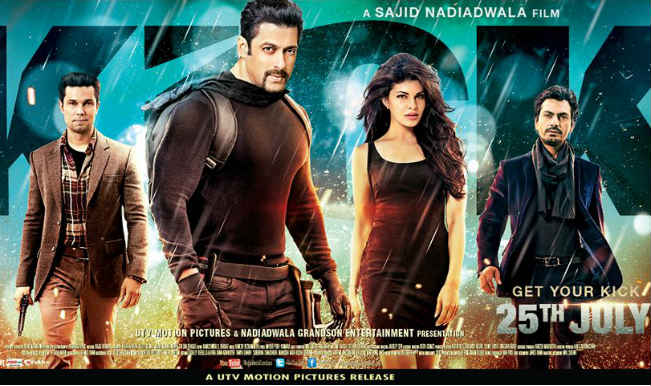 Since the past few years, on the eve of Eid, Salman Khan's movies have been releasing before the sighting of moon. We know you must be wondering that will there be any single excuse to miss the most-hyped movie of Salman Khan, 'Kick'. We will give you seven reasons why should you give this crappy-looking, over-the-top action-comedy a Kick!
1.  Yet another commercial movie by Salman Khan:
After the series of commercial and cliched masala  (Read: Trashy) entertainers like Dabangg, Dabangg 2, Bodyguard, Jai Ho, Salman Khan is back with another one to add some more crores to his revenue. His leave-your-brain-at-home sort of movies is the major reason for you to be at home instead with your brain intact (Pun definitely intended!)
2. Thanda Music:
Himesh Reshammiya's music was considered as the major USP of the film, but unfortunately he has let us down this time. The album was initiated with 'Jumme Ki Raat' hoping to be a chartbuster like Salman Khan's previous hits. The number wasn't received well by the audience. Each track released thereafter proved to be more shocking than the previous one. Hangover, Tu Hi Tu, and Yaar Na MIley, all songs failed to rule the chart.
3. Debutant Director- Sajid Nadiadwala

After proving his mettle in producing movies and writing scripts, Nadiadwala is trying his hand at Direction. When you produce and direct the same movie, either aspect of the movie-making process gets affected. Sajid has spent a huge chunk of money on the production. The film has to touch the mark of Rs. 175 crore to recover its production cost.
4. Not-So-Famous Jacqueline Fernandez

Doing a single film in a year, that too in a side role doesn't makes you a Katrina Kaif or Deepika Padukone. After an average performance in Housefull 2 and Race 2, Jacqueline Fernandez is cast as the leading lady for this multi-million project. Deepika Padukone in Chennai Express and Katrina Kaif in Dhoom 3 were the major draws at the collection centres. Jacqueline Fernandez doesn't have enough star power to do the same.
5. Exaggerated action sequences:
As seen in every alternate movie of Salman Khan, Kick's action too looks over-the-top. Even after adding sizzling stunt performers like Tony Christian (Harry Potter fame) and Lee Milhamm (The Dark Knight Rises fame), the action is not at par with Dhoom 3. VFX are also not giving a 'wow' feel.
6. Salman Khan as a Super-Hero in a body-hugging suit (Eeeewww!)
He is not in his 20s!! The body-hugging suit only accentuates his 'flablous' shape. Sallu is trying really hard to mock Zoro with his lousy mask. It would be exhausting to see the 48-year-old trying to give us the 'mature' version of a desi-spidey!
7. Damp chemistry of the leading pair:
After amassing harsh criticism on pairing with Daisy Shah in Jai Ho, Salman Khan is repeating the same mistake with Jacqueline Fernandez in Kick. Salman Khan-Katrina Kaif would have done wonders for this movie. Salman and Jacqueline's lukewarm chemistry is visible in the trailer and song promos which could work against the film.