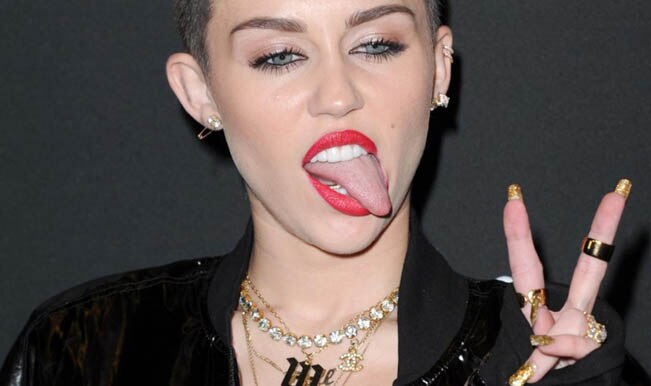 Most people would consider a backyard as a place to relax and unwind. The objects in such a place would be calming, right? Well, not if you're Miley Cyrus.
The 21 year old artiste clearly believes in making an impact – whether it is through her controversial yet raunchy performances, or by what she chooses to keep in her backyard. At her 'modest' home in California that is almost worth four million dollars, she has a backyard that matches her personality more than her wealth.
Conventional backyard stuff like a pool or a table set. No, that's not enough, as a new video on the internet shows us. Miley Cyrus has been collaborating with Wayne Coyne, the frontman of the band Flaming Lips. His girlfriend, Katy, posted a video of Miley's backyard and home.
But the backyard was just weird.
Of course, it had a stunning view of the Hollywood Hills in the back, but what was in that yard was the point of focus.
Oh, she does have an amazing pool and a spa, something that we would only dream of owning. But she has a lot more. Among the other items, there is a humongous 22 foot-tall teepee that can accommodate four people. Yes, a teepee. Miley bought that as a 21st birthday present to herself, and it is worth 25,000 dollars.  And like everything else in her life, the crazy teepee has also been in the news, because her dad, Billy Ray Cyrus had invited Justin Bieber to stay there after he got into all sorts of trouble with the law.
What else? Oh, where do we begin. From her backyard, you can see the canyon, and it has a huge saltwater pool, built into the ground. That's fantastic, but let us talk about the giant Hollywood sign that has been recreated in a custom made outdoor dining area. As if that was not enough, there are life-sized farm animals as statues, including an enormous white horse.
But before you begin to judge her taste in décor, there are some classic backyard pieces, like a hammock and a grill. So that balances the eccentricities nicely.
So what is she doing home anyway? The singer was forced to cancel her Bangerz Tour and reschedule dates after having a nasty reaction to some meds. In the mean time, she has been bonding with Coyne and his girlfriend, who happens to be a videographer herself. Apparently, Cyrus and Coyne are recording together, and working on a cover of the Beatles's 'Lucy in the Sky With Diamonds', but nobody knows when this version will release.
Usually, Miley lives with her family, but for now she was at her own home to work with Coyne. The collaboration was supposed to be a secret, but the video of her backyard was let out, and so went the secret too. But previously, she showed fans a sneak peek of the video, where she is lying on a bed with coloured lights on her.
Watch the video here.