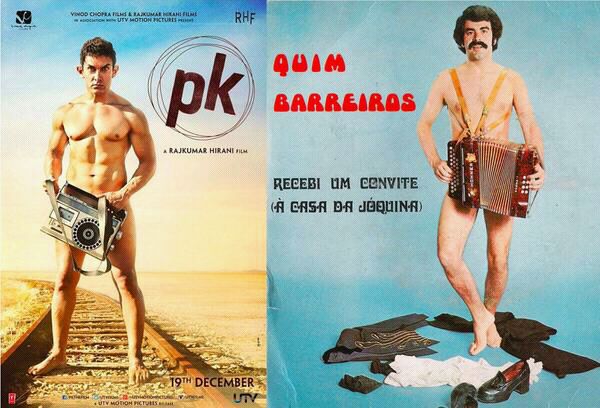 When Aamir Khan's Dhoom 3 poster looked strikingly similar to the poster of Christopher Nolan's Dark Knight, Mr Shorty's fans dismissed the resemblance as a one off thingie. Some even said that Aamir was perhaps inspired by the Batman movie, but infused originality into the poster of the action dhamaka.
And now after posing in the buff with a stereo system covering his …ahem ahem modesty, Aamir's unique pose is being seen as not-so-original. Apparently, similar looking poster was released in 1973 by a Portuguese musician named Quim Barreiros to promote his album. In that still, Quim is also standing naked with a musical instrument that covers his manhood.
The only difference in the original poster and that of Aamir's PK is that while the possibility of Quim wearing something, may be a micro bikini, to create the effect of nudity can't be ruled out. But by showing more skin than Quim, our superstar has certainly gone 'Full Monty' behind that radio, unless of course the makers pulled down Aamir's bare essentials by using digital trickery-wink wink!
 ALSO READ: Aamir Khan in legal trouble: Do you find Aamir's PK poster vulgar?