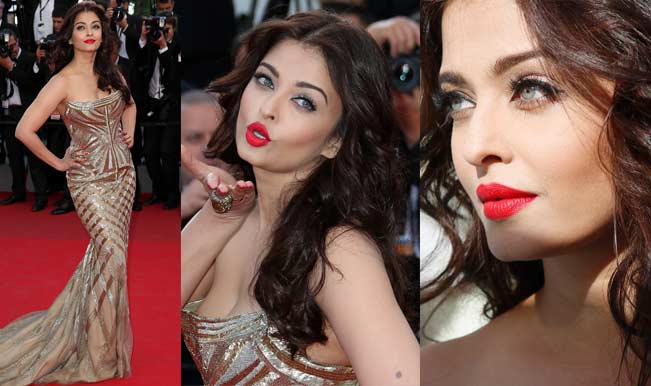 The wait to see one of the most beautiful faces on earth walk the red carpet at Cannes 2014 ended as Aishwarya Rai Bachchan made a grand appearance. Amidst much speculation around her first appearance getting delayed due to Air Traffic Control strike in France, but the wait was completely worth for the fans around as Aishwarya Rai Bachchan walked the red carpet for 'Deux Jours, Une Nuit' in a finely golden mermaid cut Roberto Cavalli fishtail gown.
You love the way former beauty queen surprises her critics and onlookers with her fashionable choices. Aishwarya raised the bar by number of times with her strapless golden dress. She flaunted her to-die-for slender figure in the gown which was finely designed to show off her curves. Her voluminous curled hair along with bright red lipstick does wonder to the overall look.  Aishwarya Rai looked every inch the golden girl with those flawless skin and oozing confidence, she blew kisses to her fans.
Aishwarya who is closely watched by the fashion critics around the world has definitely made a mark after some disappointing appearances in the past. She has faced competition from younger actresses Sonam Kapoor and Freida Pinto. Sonam Kapoor also had been a head turner with her two appearances in the Elie Saab gown and Anamika Khanna saree at Cannes 2014.
Aishwarya Rai is being accompanied by her mother Brinda Rai and daughter Aaradhya Rai to the Cannes Film Festival 2014.