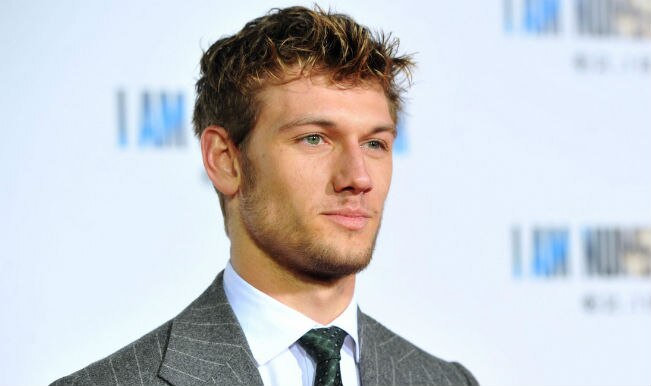 Alex Pettyfer, born on April 10, 1990 and popularly known for his performance in movies such as I Am Number Four and Magic Mike celebrates his 24th birthday bash in Las Vegas.
The British heartthrob celebrated his birthday in Beacher's Madhouse at the MGM grand on Friday. A Magic – Mike inspired show was dedicated to him on his birthday where in the end he was seen joining the strippers while he flayed off his clothes, much to the delight of the audience present there. The hunk later enjoyed a topless – dance with semi – naked host, Josh Beacher. In the end he was presented with his birthday cake, designed in the likeness of a shapely female body by two stunning dancers – both of whom were carried on the shoulders of revellers at the celebratory event.
Alex Pettyfer not only has a reputation of giving a great performance on – screen but also has quite a naughty image off – screen as well. Well – known womanizer by heart, let's take a look at some of his most popular girlfriends : -
-Emma Roberts
Alex Pettyfer had started dating Emma Roberts after he met her on the sets of Wild Child in 2007. They began to be seen together at every other event. In fact, Pettyfer even got a tattoo on his ring finger with the initials "ER" but unfortunately, the relationship didn't last for long and ended in 2008. After the breakup, Alex said that he won't remove that tattoo because he loves to live without regrets.
-Dianna Agron
Alex Pettyfer later started dating Dianna Agron, his I Am Number Four co – star in 2011. They reportedly got separated a day after their movies hit the theatres, putting to rest all the rumours of their engagement.  The reasons for the break – up as stated by many was that Alex was too controlling and Dianna couldn't take it any longer.
-Riley Keough
Danielle Riley Keough known professionally as Riley Keough, is an American actress and is the granddaughter of Elvis Presley. Alex met Riley while they filming on the sets of Magic Mike. They even got engaged. Later, however, Riley broke off the engagement because she "caught" Alex cheating on her with a "lingerie model" named Chelsea Heath.
-Marloes Horst
Alex Pettyfer is currently dating model, Marloes Horst and both of them are apparently in a very serious commitment. To celebrate Pettyfer's 24th birthday Horst even shared a picture on Instagram and called her boyfriend "baby."
Let's see how this one works out.