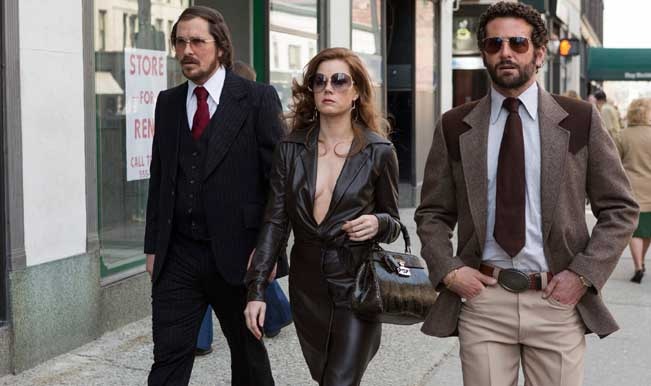 Christian Bale, Amy Adams, Bradley Cooper, Jeremy Adams and Jennifer Lawrence all in one film should give you a good idea about how Gooooooooooooooood the film is going to turn out. Conmen, thieves, cleavage show till the belly, embarrassing comb overs, horny people, scary wives, Arab sheikhs, sting operations, infidelity, discos, bags of cash, degenerates, FBI, corrupt politicians, faking art, fake companies, fake bank accounts, conning conmen, getting conned by the conmen you hired to con other conmen, balls of steel and everything else from America in the 70s, this film has it all.
American Hustle is the kind of film that comes very rarely to the mainstream theatres and that too with such a star studded cast to appeal to the mindless film goers who see who is acting rather than what the film is about. Ok, there are many who do that and of course checking out the actors in the film is the first superficial thing most of us do. That fact dealt with, the story as the film claims happened, for the most of it, in 1978 when a conman meets a beautiful woman to eventually fall in love with her and with her portrayal as a classy English lady, achieves new heights of conning.
The weird wife at home has all kinds of delusional ideas and has a kid which keeps her on the brink of sanity but she can't cook to save her life and keeps burning shit up.
The FBI gets involved when the conning starts getting noticeable and despite having a lot on them to convict them, the FBI cuts a deal with them and then begins an epic journey that has mob bosses, cartels, private investors, a mayor, corrupt politicians and casino owners falling for a hoax to rebuild Atlantic City.
All seems to go well but it actually goes to hell when the con artists pull out an ace up their sleeve and con the men who think are controlling them.
None of the characters are mentioned or the final punch of the film, even though you know it's coming, hits you like a raging bull and leaves you feeling oh-so-sorry for the poor schmuck who gets left out of the credit list when all the dust settles.
Check out the trailer and watch the movie soon, this one should not be missed.