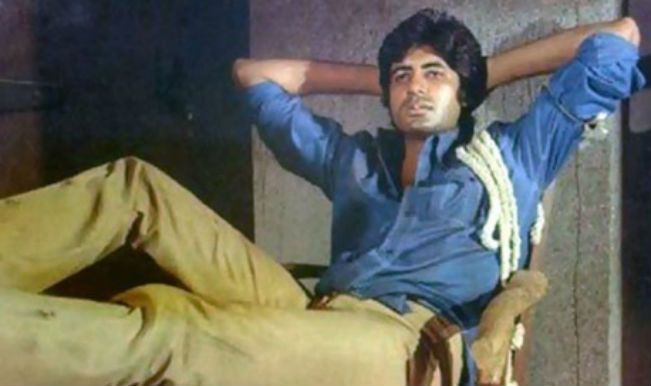 Amitabh Bachchan's iconic movie Deewar will always be remembered because of its renowned dialogues. Big B inspired a trend of its own kind with his larger-than-life look in the movie. The denim blue shirt paired up with khakee coloured pants with a rope hanging on the shoulder was a rage. And how could one ever forget the hysteria created by the billa number 786, flashing on Bachchan's mighty arm.
But do you know the story behind Big B's look? Last night, Bachchan shared an interesting trivia about his look in the legendary film.
"The knotted shirt and rope on shoulder in 'Deewar' was an adjustment for an error in stitching… Shirt too long so knotted it," Bachchan shard on Twitter.
It would be interesting to note that Bachchan knotted his shirt in a peculiar manner because it was accidently stitched too long. The tailor should be acknowledged for giving us a treat to watch the Shehenshah in that avatar.
Here are some other interesting facts about the movie
-The death scene of Big B in the movie is considered to be one of the best scenes in the history of Bollywood. The dialogues in that scene were not scripted! Yash Chopra asked Amitabh to recite whatever comes to his mind, and thus this great scene was delivered.
- Amitabh Bachchan shot two movies, Sholay and Deewar, at the same time. In Deewar, because most of his scenes were indoor and dark, he shot the movie during night. Sholay was shot by him in the day time.
-Deewar, released in 1975, also starred Shashi Kapoor, Neetu Singh and Praveen Babi. It was received exceptionally well by the audience and declared super-hit at the Box Office.