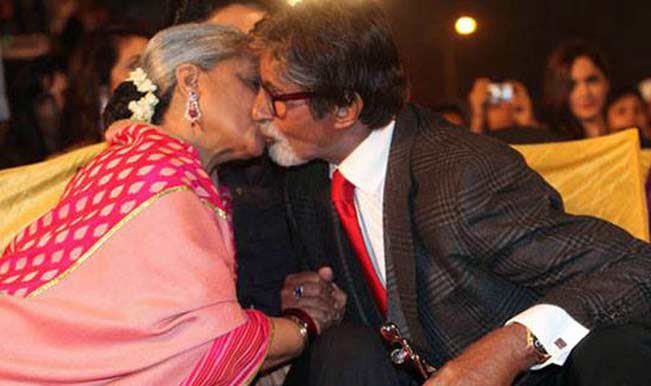 Amitabh Bachchan and Jaya Bachchan sure know how to move with the times. While we have superstars like Salman Khan who prefer to live in a primitive era, refusing to kiss onscreen and even avoiding it in public, we had the two popular veteran actors going ahead and kissing in public at an awards function.
Strangely, Amitabh and Jaya indulged in their PDA right in front of their son Abhishek Bachchan (View more pics!), who was sitting in between. You'd think it was cute, but we're sure Abhishek had his most awkward public moment ever!
Why oh why, did Big B and Jaya ji have to kiss in public? So Amitabh Bachchan the legend won an award. What's new? He always does. He is so good in the art of cinema and also the art of PR (public relations) that he receives some trophy / doctorate or the other 12 months a year.
So it's indigestible to us that Jaya suddenly had this urge to lock lips with her husband of many decades, after attending thousands of award shows and events together. They did not even do it abroad, or at least, the paps didn't cover it.
Jaya was not her usual self at the Screen Awards. The versatile actor was either simply 'acting' or she was high on something. Just like she was high a few weeks ago when she screamed at the media for addressing her prized bahu Aishwarya Rai Bachchan with her first name. (I mean, what do we call Ash, Her Royal Highness or something?) Coming back to Jaya, we think she just got insecure about her hubby, because at the same awards function where she kissed him, she shook hands and hugged his alleged longtime muse, actor Rekha. That the three might be great friends now, is not something fans of any of them would like to hear.
Salman Khan hugging rival Shahrukh Khan just to create some publicity for his film Jai Ho is understandable. But grandparents Amitabh and Jaya Bachchan showing such affection in public for the first time, beats us! Or was this Big B's way of appearing more international, especially after his Hollywood debut in The Great Gatsby?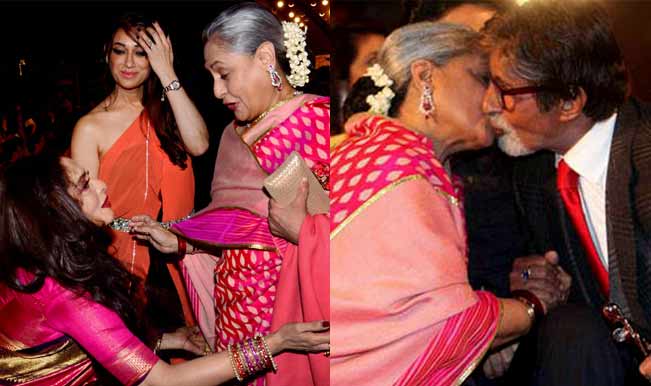 Photos: Yogen Shah | Imaging: Jyoti Desale