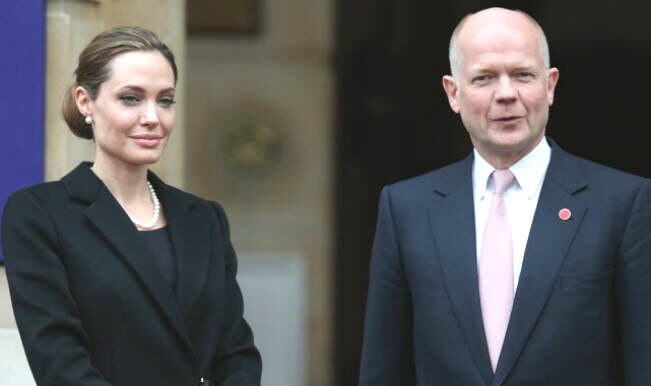 London, June 1 : Angelina Jolie and BritishForeign Secretary William Hague have hosted the London conference to highlight use of rape in war. During the conference, it was revealed that babies as young as six months old are falling victim to unspeakable acts of depravity as armed gangs defy the basic rules of combat.
Aid agencies are everyday rebuilding the lives of scores of women and children who have fallen victim to the cruel excesses of combatants turned rapists, express.co.uk reports. One United Nations peacekeeper, who has witnessed the suffering, said that it was now more dangerous to be a woman than a soldier in modern wars.
Armed gangs in the DRC rape 36 women or girls on an average every day. In the Somalian capital of Mogadishu, 50 children a week are being subjected to sexual violence. According to the report, post conflict Liberia reports as many as 87 per cent of all its children suffered some form sexual violation during its civil war, with 65 per cent of the rape survivors under 15.
According to the report, the Balkans wars witnessed rape as an "instrument of terror". Hague called on the world to come together to destroy the most appalling weapon of modern warfare. Co-hosting the London summit will be film star and United Nations human rights ambassadorAngelina Jolie.