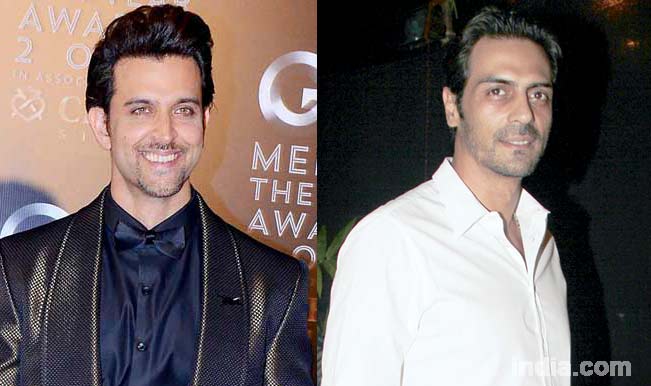 We thought superstar Hrithik Roshan would have a lonely birthday this year, with wife Sussanne Roshan having separated from him in December 2013. But Duggu, as he is fondly called, has been bonding with the boys, big time. He has been meeting actors Salman Khan and Aamir Khan to cry on their shoulder, and having his playtime with the likes of Raymond head Gautam Singhania.
The actor, born on January 10, 1974, had a rather tough 2013 and we are not talking about fudging Krrish 3 box office collection numbers. He had a brain surgery and months after that, his wife of 13 years left him – allegedly to be with another man. There was a strong buzz that the man in question was Hrithik's good friend Arjun Rampal. A quick denial followed, as is the norm. But an insider tells us that there is no smoke without fire and that Sussanne is gone for good.
So we were rather shocked to see Hrithik and his wife's alleged lover having a ball together last night at the birthday boy's bash. Is it that Hrithik has reconciled to the fact his babe is now with his pal? Or is it that the two men in question are having a gala time? Is it possible?
Hrithik has been distraught and looking like he needs a hug, with not even the success of Krrish 3 providing any solace. On top of that, he fell out with buddy Shahrukh Khan, too over petty matters like box office figures of Chennai Express versus Krrish 3.
So maybe Arjun, who is also not that pally with SRK anymore, got together with Hrithik and gave him a much needed jaadu ki jhappi and more. But we hope Hrithik in his distressed state realises that this is the same guy who's giving his wifey lots of jaadu ki jhappis and pappis!
Disclaimer: We love you, Hrithik! And we hope you take this satire with a good dose of sportiness.
Photos: Yogen Shah