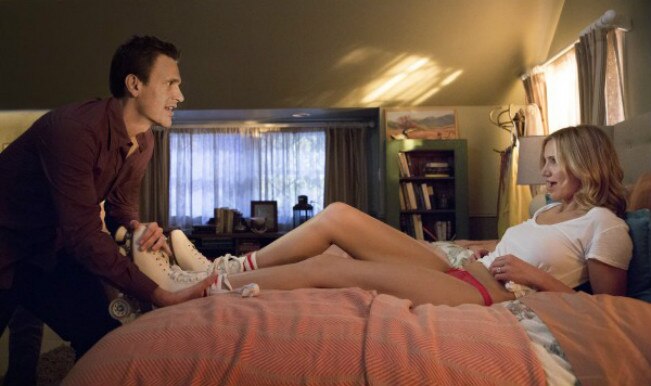 Cameron Diaz who had to strip down for her role in Sex Tape, says the filming was not difficult as the crew was "awesome and respectful". The 41-year-old said shooting all the steamy bedroom scenes was just a part of a day's work.
Sex Tape is a Hollywood comedy which will be out on July 25. It stars How I Met Your Mother actor Jason Segel along with Cameron Diaz. Directed by Jake Kasdan, Sex Tape revolves around a couple who, after discovering that their three-hour intimate video has been stolen, set out to recover the tape and ensure that their reputations aren't ruined.
Cameron Diaz told People Magazine that Sex Tape is about lovemaking between the characters and she trusted Jason Segal. It's their second film together after Bad Teacher.
"The whole movie is about lovemaking between the two characters. The crew was awesome and respectful," said Diaz. "There's such trust with Jason. We both had each other's back," added Diaz.
"Sometimes I would stop in the middle of a scene and go, 'Everybody hold on! Do you realise we're getting paid to do this?' We had such a fun time laughing our asses off, having such gratitude that this is our job. We get to be idiots all day long and tell a really sweet story at the same time."