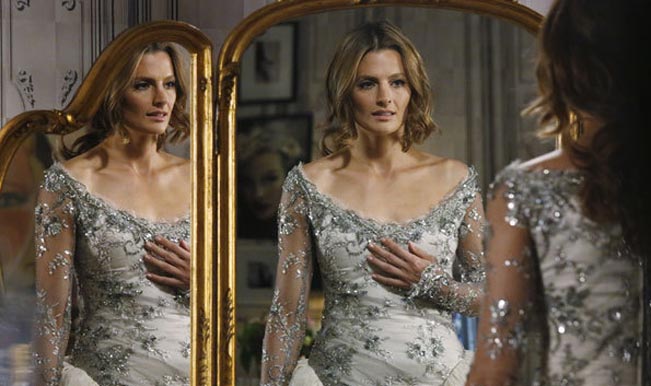 We in India are only getting to see the Season 4 of popular ABC show Castle, but there are more exciting things happening in Castle Season 6. For one, there's huge buzz online amongst Castle fans about the impending wedding of American television's current hot couple, Detective Katherine 'Kate' Beckett (Stana Katic) and author Richard 'Rick' Castle (Nathan Fillion). The pair is known as 'Caskett' among fans.
SPOILER ALERT: Oh yes, pictures of Beckett's wedding gown have been doing the rounds. It's a dress gifted to her by a pro designer and fashion editor. Now, how did Beckett happen to know such a person? Did she use her NYPD influence?
No! It's something else. A secret is revealed – Kate had actually tried modelling in her younger days. Now that explains how an NYPD 12th precinct cop always manages to look svelte and chic. And thankfully, she does not like to be called 'Sir' – unlike her strict female boss! (And oh, btw, no NYPD 12th precinct exists anymore – it's only used in fiction.)
Surprisingly, Richard is not surprised that his tough lady love was involved in the fashion industry.
Coming back to the Castle-Beckett wedding, we still don't know what the date is. Stana has tweeted that they have wrapped up Castle Season 6 now, with no announcement of Castle Season 7 yet. But she also tweeted a picture of a wedding magazine, saying, "Research

". Now, that means something, doesn't it?
Research. pic.twitter.com/1miJScUvMA

— Stana Katic (@Stana_Katic) February 11, 2014
So, when will the Castle and Beckett marriage finally take place? Season 10? God knows how long they're gonna stretch the show and make us wait, Ekta Kapoor style. Look what Ekta has made out of our very own cute couple, Ram Kapoor and Priya in Bade Acche Lagte Hain. Sigh!
We're eagerly awaiting Kate and Rick's wedding! For now, check out pictures of her wedding gown and also the Castle promo where she gets the wedding gown as a gift.
Watch promos:
Castle 6×14 "Dressed To Kill" Beckett and a Surprise
Castle Season 6: Episode promo – Smells Like Teen Spirit

Gallery:
Photos and promos courtesy: ABC