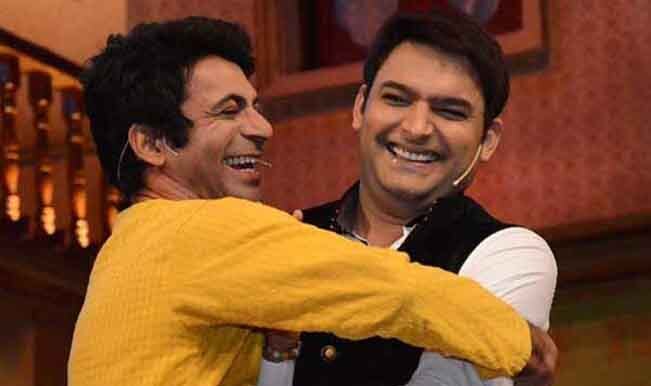 Comedy Nights With Kapil is arguably the funniest comedy show on Indian television at the moment but the reason that a whole lot of people watch the show tonight was because of the return of a character in a new avatar, Gutthi returns as an yet to be named character who plays Kapil Sharma's father-in-law.
Just one step on stage by Sunil Grover and the questionable comic sense of studio audience remains questionable no more. The audience erupts in a flurry of applause without even a word as without a doubt the best part of Comedy Nights With Kapil returns.
Sunil Grover left the show on a wave of confidence when the audiences were sad to see her go but happy that he would be appearing on his own show – Mad In India, which bombed royally. Sunil Grover's return is mutually beneficial for both, the show, Comedy Nights With Kapil as well as Sunil Grover.
The guest star of the show is Dharmender, who was also the first guest of the show, along with Poonam Dhillon to promote their upcoming Punjabi romantic comedy film – Double Di Trouble. After Poonam Dhillon, Gippy Grewal comes as a guest who is also starring in the film, Double Di Trouble.
It is a relief for comedy fans as Sunil Grover makes his comeback to Comedy Nights With Kapil in time when news was flying around of the show not being on air for a very long time. Welcome back Sunil Grover, you were indeed missed.