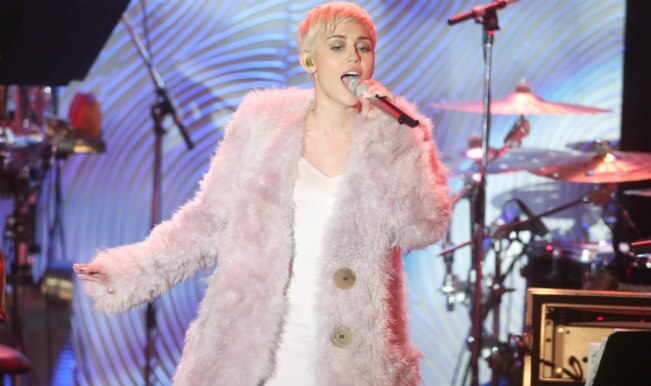 If you're a huge Miley Cyrus fan, you must know something – don't ever sneak into her dressing room! A fan reportedly sneaked into Miley Cyrus' dressing room a day before her Omaha concert and left a note requesting her to meet him.
According to the police, the 18-year-old entered a restricted area of the CenturyLink Center and later took to Twitter to message the 'Wrecking Ball' to check for the note, reports Fox News. So if you're interesting in meeting Miley Cyrus, just don't try outsmarting the security to sneak into her dressing room. Because not only is it unethical and weird, now it's a serious crime!
The crazy male fan's name is Tucker Salvesen and he left a note pledging his love to Miley Cyrus saying that her music gave him all the answers he was looking for to mend his broken heart. Tucker must seriously be demented. The note is believed to read, "I snuck back here I need to meet you. You have helped me so much your music has given me all the answers I was looking for when my heart got broke … we went through the same thing @ the same time … Miley I love you!!! Please let me meet you."
What's worse than Tucker's choice of female icons, is that he was quite proud of his behavior that he took to Twitter to share what he had done. Salvesen took a picture of Cyrus' dressing room and posted it on her Twitter page to let her know she had a little surprise inside. He captioned the picture, "I snuck into your dressing room today in Omaha, there's a note in there for you."
Hence he got caught and was detained the day of the concert in a public area at the CenturyLink Center and cited on suspicion of trespassing. His wish of meeting Miley Cyrus wasn't granted too as Tucker Salvesen arrested and banned from the concert. Tucker was believed to have been spotted by police when he turned up for the concert the next evening and was then arrested before he was able to enjoy the show.
Moral of the story: Don't sneak in to your idol's dressing room.
Moral of life: Just have better idols.