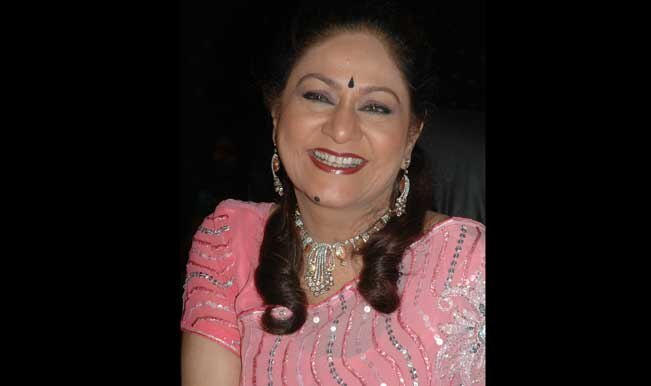 One of the finest Bollywood and television actress, Aruna Irani celebrates her 61st birthday today. Having acted in over 300 movies, she still retains the charm that makes many swaying to her tunes. She holds the record for winning maximum nominations in the Best Supporting Role category.  In January 2012, she was honoured with Filmfare Lifetime Achievement Award at the 57th Filmfare Awards function. She has been in the film industry for over 50 whole years now. On this celebratory occasion, we take a look at some of her finest dance performances in the movies :-
Chadti Jawaani Meri Chaal Mastani (Caravan)
"Chadti Jawani Meri Chaal Mastani" is a Bollywood film song from the 1971 film, Caravan. The video features actors Jeetendra and Aruna Irani lip syncing on the song recorded by Mohammed Rafi and Lata Mangeshkar.  Through the lyrics, Irani complains in this song of how Jeetendra ignores her beauty and prime youth. Irani won her first nomination of a Filmfare Award in the Supporting Actress category for her performance in this film.
Apni Toh Jaise Taise (Lawaaris)
Apni Toh Jaise Taise is a Bollywood film song from the 1981 film, Lawaaris. The song was written by Prakash Mehra and sung by Kishore Kumar. One can see Aruna Irani grooving to the song with Amitabh Bacchan. Irani looks gorgeous in the orange outfit while dancing on this song.
Main Shayaar Toh Nahi (Bobby)
Main Shayaar Toh Nahi from Raj Kapoor's Bobby is perhaps one of the most memorable songs of those times. In this song, Rishi Kapoor is seen lovingly remembering Dimple Kapadia while singing to Aruna Irani. One can see Irani sizzling to this soft melody in a backless green gown. Her thumkas makes it all totally worth it.
Dilbar Dilse Pyaare (Caravan)
Another hit song from the movie, Caravan had and in fact, still makes the audience go crazy. This song was sung by Lata Mangeshwar and was based on Aruna Irani's character Nisha.
We are all are truly mesmerized by all her performances and hope to do so in the future as well. Here's to Aruna Irani – Happy Birthday!