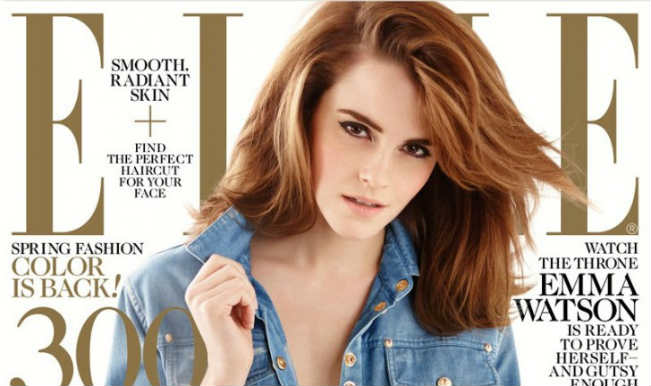 Emma Watson the ever so amazing English actress who rose to prominence playing Hermione Granger in the Harry Potter film series is back in news. Although she is always known to draw attention with her implacable sense of fashion and with her utmost confident body language. She is now over the Elle April edition. She looks ravishingly amazing in the chic all denim jumpsuit by Balmain and a gold python Kara Ross belt. And she is totally rocking the cover page look. And the tag reads Emma Watson is ready to prove herself and is gutsy enough to do it!
The Brit girl who jumped out of movie-making mega-stardom is totally nailing it on top glossy covers. The sassy young star has carried off the unconventional straight-up denim jumpsuit better than anyone else could have done. Although her double denim look reminds us of Justin and Britanny together, still she looks somehow glamorous.
Watson reveals in the interview that she'd rather not live life in other people's clothes, which is one of the reasons she attended Brown. Her style galore continues inside the magazine with one photo showing her in cool suede Rupert Sanderson ankle boots and a crystal beaded top by Rodarte. In another image she is in her 70s-look in a Versace denim jacket, an Anthony Vaccarello jerry jumpsuit, a vintage hat winged eyeliner and hair pulled up into two pony the whole look in grayscale looks cool. And in yet another captured image she looks strikingly stunning in a silk Celine top and fishnet skirt, and a red Chanel hat.
Recently Emma Watson stunned everyone on the red carpet for the Berlin premiere of her upcoming film Noah .For the glam event, Emma chose to wear a midnight-blue, chiffon Wes Gordon gown with a sheer black overlay and a cinched waist. She swept back her hair simply and added a swipe of bright-red lipstick to add some drama. The back of her dress had this little bow adding a subtle girly-ness to the dress. She totally rocked this glamed up look!
Also the film is grabbing a lot of negative publicity since the movie has the portrayal of the Biblical and Islamic figure Noah. Resulting in, many people from Christian and Muslim community reacting with negative reviews. The movie has been banned in UAE.
The movie starring Emma Watson, Jennifer Connelly and Russel Crowe will be hitting the theatres soon.