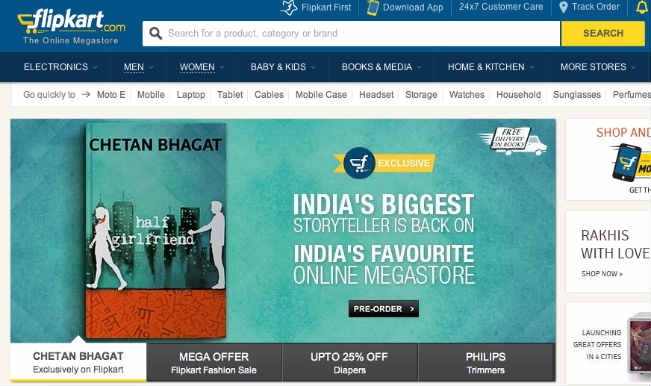 After bagging exclusive selling rights for mobile phones like the Moto G, Moto X and Xiaomi Mi3, Flipkart is back to doing what it started out with – selling books. The e-commerce website that recently raised $1 billion has announced exclusive pre-orders of Chetan Bhagat's new book titled Half-Girlfriend - available at this link. Flipkart is selling Bhagat's book for Rs 149 (inclusive of tax), on pre-orders. The book will be available for Rs 175 post launch.
Chetan Bhagat tweeted last night, "Tomo. New book announcement. Super excited."
A best-selling Indian author, Bhagat has sold millions of copies of his books, and all of them have been adapted into Bollywood movies. His last book, Revolution 2020 will star Arjun Kapoor in the lead. Arjun also starred in an adaptation of Chetan's 2 States, which had Alia Bhatt as the female lead.
Bhagat has also written screenplays of his films and recently wrote Salman Khan's blockbuster Kick that released on July 25 and has made Rs 200 crore at the box office.
So, will Chetan Bhagat's new book Half-Girlfriend be also made into a movie? But the more relevant question right now is: Are you pre-ordering Chetan Bhagat's latest book? Do check out the Twitter reactions to it before placing your order!
Meanwhile Flipkart, which can be safely called as the Indian Amazon.com as it built itself on the same model as the American company, seems to have hit another winner with this deal.