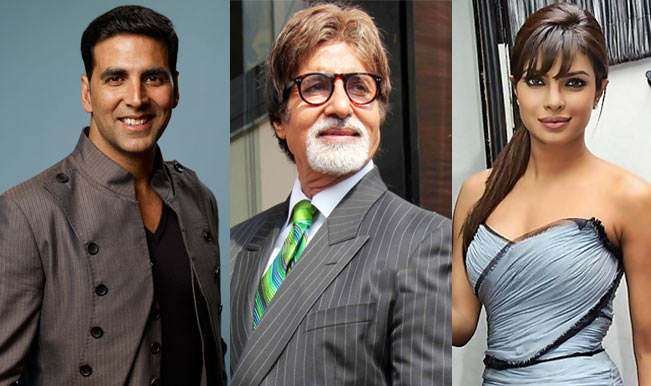 The day of friendship is here. Remembering old friends and cherishing nostalgia is all you do on a friendship day. Bollywood celebs have also joined the party to wish their fans a 'Happy Friendship Day'. Amitabh Bachchan denies wishing Friendship Day as he says that every day is a friendship day and we don't need a special day to celebrate our friendship. A thought to ponder over!
Riding on the fresh success of Holiday, Akshay Kumar's next release 'Entertainment' is on the edge of its release. He has posted a photo with the dog (Entertainment) in the movie that says 'Best friends stick together'.
Actress-turned-singer Priyanka Chopra has tagged her friends as her family, and dedicated her tweet to those who love her unconditionally.
Alia Bhatt and Karan Johar too remember their close pals on this Friendship Day.
T 1565 – Friendship Day ???? No ! Every day is friendship day ! ONCE A FRIEND, ALWAYS A FRIEND !!

— Amitabh Bachchan (@SrBachchan) August 3, 2014
Happy Friendship Day!Tweet a pic of u & ur best friend 2 @TipsFilms wid #Entertainmenton8thAug & win cool merchandise pic.twitter.com/w2ECbqKdLR

— Akshay Kumar (@akshaykumar) August 3, 2014
At the @HiltonShillim !!!! Peaceful, serene and electrifying… Happy friendships day to all of you;) love love love you all

— Alia Bhatt (@aliaa08) August 3, 2014
Friendship just like marriage has its fair share of highs and lows…but when the base is strong it's an unbreakable bond….#FriendshipDay

— Karan Johar (@karanjohar) August 3, 2014
Friends are the family you choose.. To those friends who unconditionally just love… To family! Happy friendship day.

— PRIYANKA (@priyankachopra) August 2, 2014