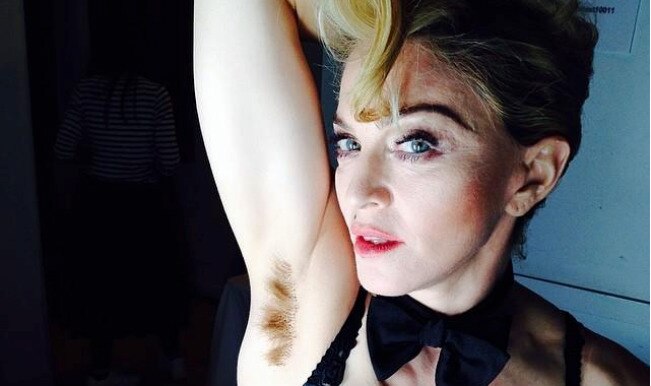 Madonna has always been known for her wildly carefree attitude. Recently she flaunted a picture of herself flaunting her hairy armpits. She put up her hand displaying her right underarm on Instagram and suggested rather implies by explicit reference that her natural look is her artistic ability. (Read: 10 most popular international music divas of 2014)
Madonna has always seemed to be confident in her skin. For this particular picture she posed in a glamourous black bra with an unbeatable bold self assured look. She captioned the picture  showing off her armpit: "Long hair…… Don't Care!!!!!! #artforfreedom #rebelheart #revolutionoflove. (sic)"
She went on to post a series of pictures. She is unabashed about her style and falunst her assets however she likes. The singer had posted another risqué photo which was extremely provocative. She flaunted her bottoms in fishnet tights and fetish-style underwear, showing off her rear.
She captioned the picture "Looking for Love in all the wrong places!" but removed it later.
She also put up a picture of her smoking a cigarette and then captioned it :"Smokin…………..#ididntinhale. #icantwait (sic)" (Mane care: What your hairstyle tells about you?)
Seems like she is all over Instagram with her pictures, to impress her young boyfriend. Who is also a backup dancer Timor Steffens, 26, whom she met after they worked on a dance project together. She seems to have over her and moved on from her last split with Brahim Zaibat. The chemistry between Madonna and Timor is pretty intense. In a number of Instagram pictures, her boyfriend Timor is seen posing with Madonna's 13-year-old son Rocco, which clearly suggests that he is already friendly with the family.