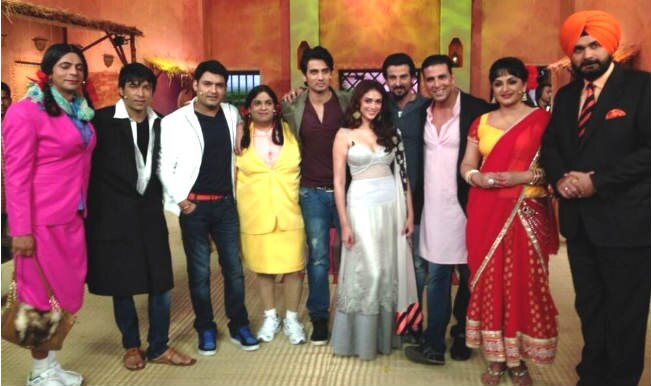 It was June 22nd, 2013, when the greatest comedy show in the history of Television industry was launched. Kapil Sharma, who was rejected three times when he auditioned for 'The Great Indian Laughter Challenge.' The era of sitcoms have witnessed various stand-up comedians like Raju Shrivastava, Shaqeel Siddiqui, Sunil Pal, but this man- Kapil Sharma stands lone of them. Behind his sweet as honey 'success', he has had 'hard cheese' too. His father battling with cancer over 12 years, and giving up on life was the toughest phase for Kapil Sharma.
But as they say 'Jaakho Raakhen Saaiyaan, Maar Sake Na Koi' (No one can destroy you, until the creator is with you.) Kapil Sharma came to Mumbai, auditioned three times for The Great Indian Laughter Challenge, selected in the fourth time and won that season. He moved to comedy circus and won its six seasons consecutively. After that embarked his production house named 'K9 productions', and produced the show- Comedy Nights with Kapil.
The show was inaugurated by yester year's superstar Dharmendra, he was there to promote his next: Yamla Pagla Deewana 2. Comedy Nights… became the most preferable source for the actors to promote their upcoming movies. Most of the times, public got to know about the upcoming movie of the actors, when they came to Comedy Nights. From the star of the millennium- Amitabh Bachchan to the King Khan- Shahrukh Khan, from the Khiladi Kumar- Akshay Kumar to the Megastar- Salman Khan, all have been part of this show. The show became rage among the audience. 'Babaji Ka Thullu' (Punch line on the show) became viral all over, Dadi's trademark 'Chumma' became the most awaited moment on the show.
TRP's of the show was on a steep rise with every passing episode. Kapil Sharma has also signed a 3 film deal with Yash Raj Films. His debut movie has been titled as 'Bank Chor', and the filming is yet to be started. This September the show will take a season break, and will come in a new avatar next year.
We wish Kapil Sharma and the entire team of Comedy Nights with Kapil all the best!!