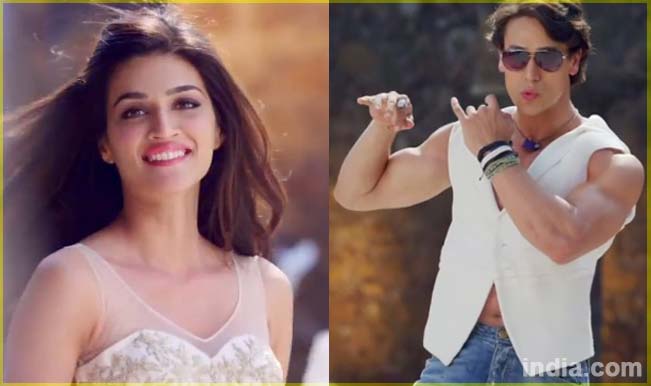 Do not confuse 'Whistle Podu' from IPL to 'Whistle Baja'. This Flute Song 'Whistle Baja' is the first song from highly over-the-top hyped movie Heropanti has Tiger Shroff playing the flute, which is nothing more than an advanced version of the nostalgic tune from his dad Jackie Shroff's debut movie Hero. Everything looked sane till the time he jumps in air, removes his shades, gives the sadistic grin to an equally over-dramatized leading lady Kriti Sanon!
'Whistle Baja' is quite an upbeat number, with perfect mix of contemporary and class. The in-between use of the flute is refreshing. Well the song's rustic Punjabi touch plays on your mind and the quirky lyrics are quite catchy. It is energetic with good work done by  Manj & Nindy Kaur Feat Raftaar. The disappointment comes in the form of the lead pair Tiger Shroff-Kriti Sanon.
Tiger Shroff can lip-sync, dance well but something seems horribly amiss in with the star kid in this first song 'Whistle Baja'. It looks like he too is suffering from Harman Baweja-syndrome, where an actor resembles way too many persons, like the latter is always compared with Hrithik Roshan and Enrique Iglesias.
Well in Tiger Shroff's case, you simply cannot ignore the uncanny similarity with Salman Khan's whistle act from his movie Partner in 2007 or even more with Akshay Kumar from Anees Bazmee 2011 comic caper Thank You. Well the director Sabbir Khan should come out with something original, because matching these superstar's steps will not help.
Overall, we are guessing Tiger Shroff's 'Heropanti' to be the advanced version of Jackie Shroff's dream debut in 'Hero'. First the trailer, then the first song, everything is one modified step ahead of Subhash Ghai's yesteryear classic. Nothing is wrong with it, because in recent times we have seen many classics remade and dusted, but why a modified version!
So get ready for some 'Whistle Baja':