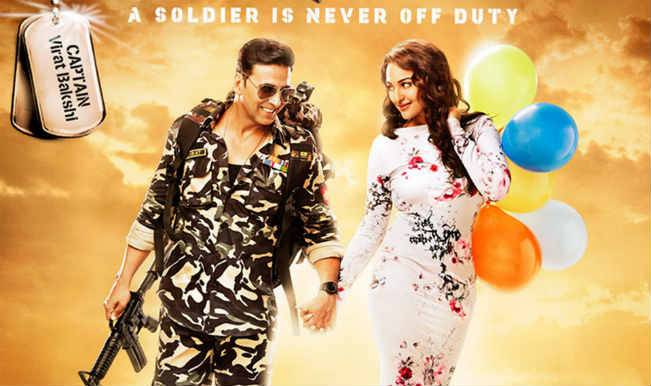 Bollywood is in that phase where remakes are as common as retakes. While every second movie releasing is a remake or inspired by the west or our very own south India. However the biggest problem with remakes is that they rarely stand up to the expectations. Holiday: A Soldier is Never off Duty is one such movie. However the best part of this remake of the Tamil movie Tuppaki is that it not only lives up to the expectation but also out shines.
This movie brings back our beloved action hero Akshay Kumar, who is in form and portrays the role of the Indian Soldier to perfection. Sonakshi Sinha, in the role of his girl and a sportswoman plays it aptly and makes the perfect pair. Sumeet Raghavan also outlines in the role of his best friend. The supporting cast is selected with precision and results in a completely believable story.
The story, which has been directed exactly like the original gives it the required suspense and makes it thrilling. One of the biggest highlights of this film is the action effect which take you through a unique ride. The depiction of bomb blast in the movie makes the hair on your neck stand and a fight scene brings out the tension from the screen to every audience.
Revolving around  terrorist attacks and sleeper cells, this movie handles the sensitive topic with care and A. R. Murugadoss does justice to his story. Having mentioned the highlights there are some disturbing parts to the movie as well. The songs in the movie appear out of the blue and seem to be forced and unnecessary. The length of the movie is another minus, that makes you wanna stretch and even miss the last song. With flaws and attributes this movie completely succeeds in entertaining you and  giving you an experience that you will not forget. It is a must watch for every Akshay Kumar fan and at least a one time watch for the others.