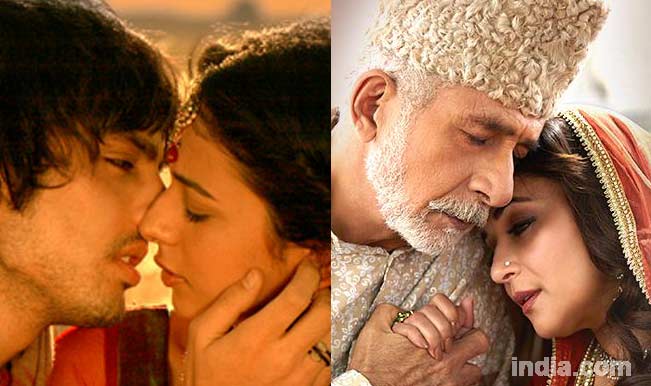 What defines the success of a movie? Great movie reviews or bigger box office? In today's Rs 200 crore scenario, the latter is more important than before. Madhuri Dixit-Nene, Naseeruddin Shah, Arshad Warsi, Huma Qureshi and Vishal Bhardwaj were overwhelmed with four-star movie ratings for their labour of love Dedh Ishqiya last Friday. But having looked at the movie's box office collections on the opening day, the veterans might not be so amused anymore.
The box office earnings of Dedh Ishqiya are almost half of that of Yaariyan – a movie starring newcomers and made by debutante director Divya Khosla Kumar. Most critics have panned Yaariyan but it has better collections- – Rs 6.3 crore versus Dedh Ishqiya's collection of Rs 3.5 crore. How did that happen? Let's take a look.
Yaariyan's young appeal vs Dedh Ishqiya's old world romance:
One look at the trailer of Yaariyan, and we knew it had good potential amongst the teenyboppers. That turned out to be true. To a youngster, Dedh Ishqiya seemed a story of oldies romancing or even a hint of being in cougar town. A college kid would rather go in for Yaariyan, naturally. Who would want to watch oldies like Madhuri and Naseer kissing when there are hot babes and a fresh new pair in Yaariyan, right? We're sure Vishal and director Abhishek Chaubey didn't think of this angle when they must've dismissed Yaariyan as competition.
The songs:
Let's face it. Most movie goers in India are young and they would not blink before deciding on their musical preference. Peppy rapper Yo Yo Honey Singh versus the Sufiana Rahat Fateh Ali Khan and Rekha Bhardwaj? Honey Singh wins hands down!
The language:
College slang and modern lovespeak versus the classic Urdu – umm, Urdu? What's that? Of course, the modern lingo wins here! Kids were scared that Dedh Ishqiya dialogues and lyrics would go 'tangent' over their heads, like most of what their teachers say in class does!
The story:
Hmm. Yaariyan has nothing new to offer, but it offers the formulaic High School Musical in new packaging. It works. More fun to watch a predictable story ridden with adolescent angst, college love, fights, romance, studies, competition, hostel life, curiosity about sex, boring teachers, fun songs, extra-curricular activities, etc. than a complicated, convoluted Dedh Ishqiya, OK?
The look:
Producers T-Series packaged its film well with lots of colour and a young feel. Dedh Ishqiya's Begum and her story had to have a classic look and had been shot in a real, old palace with earthy colours and a royal look. Defo the teenagers would be more interested in the skimpily clad girls on the beach in Sunny Sunny (the Honey Singh song) for instant relief rather than a purani haveli or mahal. Sahi bola na?
Which film did you like better – Yaariyan or Dedh Ishqiya?