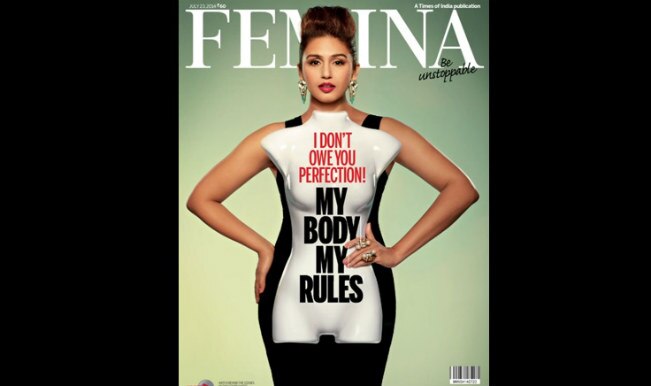 Our beloved Huma Qureshi who impressed many with her acting skills in Dedh Ishqiyaa and Gangs of Wasseypur shattered the stereotype about the "perfect figure" in the latest Femina cover with a very clear and strong message, "I don't owe you perfection. My body, my rules". We sure hope this is will bring about a change in the industry as well as our society.
The industry is dominated by size zeros and the slim glam girls. We are in that face of life where every girl watches her weight like her life depends on it. People are often ridiculed on their weight and features be it the film industry or the everyday world. This is not just a problem in India but also abroad. While they have started coping with the problem, we on the other hand are way behind.
Actresses are still called names for being on the heavier side and face a lot of criticism for the same. The fashion magazines have also been a huge supporter for the perfect figured Barbie dolls, making every issue's cover look almost the same. They all revolve around the lie that women need to be "in shape" to suit the imagination of men as well as society. It has been an unsaid rule for years and it is high time it changed.
Women do not owe men anything, their body is their own and they should decide how they want it to be. This thought needs to be spread by each and every sensible person to bring about a change in the thoughts. This change has begun and was brought into action by a celebrity.