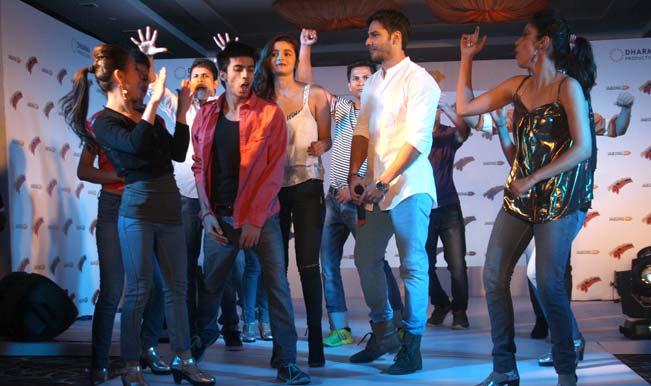 Humpty Sharma and his Dulhaniya are on a promotional spree for their latest movie. Varun Dhawan as Humpty and Alia Bhatt as his Dulhaniya are stealing loads of hearts worldwide. In a promotional event held in New Delhi, the dazzling duo were looking as charming as always.
'Humpty Sharma Ki Dulhania' has already created tremendous buzz amongst the youth. The chemistry in the promos between charming-since-birth Alia Bhatt and robust-cum-dashing Varun Dhawan is awe-inspiring. They both made their debut with the same movie 'Student Of The Year', but after the tragic climax of the movie, the 'students' are seen romancing in this flick.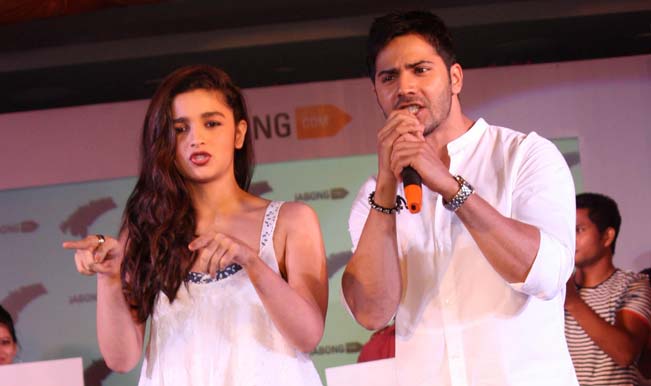 Talking about the event, both Varun and Alia were in casual-yet-sassy White and Blue. Varun was spotted in a cool white shirt and light blue denim; the brown ankle-height shoes complemented well. Whereas Alia was wearing  a sexy white top and dark blue denim along with her black ankle-height shoes. The sparky duo were a delight to watch as they set the stage on fire with their mesmerizing moves on the track 'Saturday Saturday', a superhit song from the movie, already!
The promo has received an amazing response from the audience, and plus the stirring music is adding more buzz to the movie. 'Saturday Saturday' is rocking the discos and pubs all-over, while 'Samjhawan' is topping the playlists of all the lovers. The recently launched 'Emotional Fool' song has also got amazing response. Looking at the promotion-frenzy by the star cast, it would be really captivating to see how our Humpty will say 'Main Tera Hero' to his Dulhaniya. *wink*