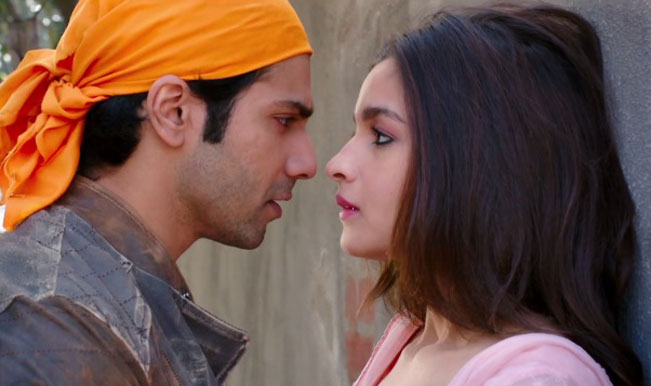 Varun Dhawan might not have got Alia Bhatt in Student Of The Year but no worries as the actor is all set to woo his lady love in  Shashank Khaitan directed Humpty Sharma Ki Dulhania. With the release of the official trailer of Karan Johar produced Humpty Sharma Ki Dulhania, one gets to see the crackling chemistry between the two young heart-throbs.
The story revolving around the lead characters Humpty (Varun Dhawan) and Kavya (Alia Bhatt) looks a refreshing roller-coaster ride. Varun looks cute as he explains why his name is Humpty Sharma and then you have Alia Bhatt as bubbly Kavya who is all set to marry. The title reminds you of cult movie Dilwale Dulhania Le Jayenge has some really witty dialogues shared by the protagonists.
Alia Bhatt is convincing as super cute bride-to-be as she mouths the dialogue "Main Shaadi Karungi, Toh Kareena Wala Lehenga Pehan Ke Karungi, Warna Dulhe Ko tata bye-bye Kar Do!" Lo She copies Kareena Kapoor Again! With every movie she is growing as an actor and has great presence on screen and as for Varun is concerned – he is simply marvelous.
And if you thought Humpty Sharma Ki Dulhania was all about the two, you are in for a great surprise. Telly actor Siddharth Shukla is all set to make his debut with the Karan Johar's Dharma Productions. He is definitely giving Varun Dhawan a stiff competition with those to-die-for physique and hero type charming good looks.
The movie is all set to hit the theatres on 11th July, 2014 but one must say going by the First Look, it is surely going to be up for grabs in the audience. Watch and enjoy Varun-Alia love story's first look: