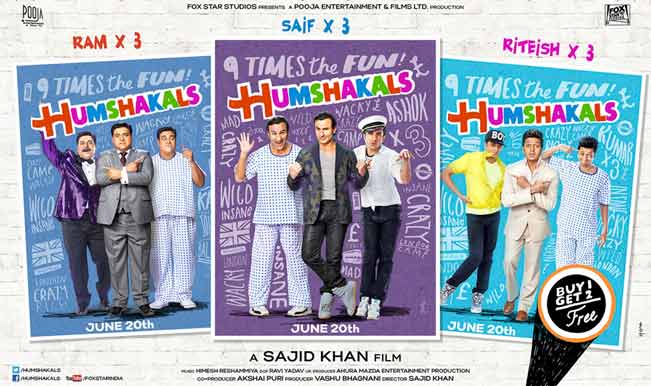 As the movie has been trashed by the critics, now public is also showing their frustration towards the movie by spreading jokes about it. Here are some best jokes that are going viral on internet.

1. Censor Board asks #SajidKhan to keep a gap of 5 years between his films to allow recovery from earlier ones.
2. Public verdict after watching Himmatwala : "This is the worst film we have ever seen."
Sajid Khan: Challenge Accepted.
*Makes #Humshakals*
3. BREAKING: Government has decided to station 2 ambulances outside every multiplex screening.
4. On Television, watch World cup Soccer; at Movie theaters, watch Sajid Khan's "Shocker."
The choice is yours!
If the jokes weren't enough to make you giggle, read these some of many WTF moments from the movie.
**SPOILERS AHEAD**
10 WTF moments:
1.The movie has 3 Ashoks and 3 Kumars, how come everybody has the same name?
2. Invention of M.A.D (Mind Alteration Drink) drink, that converts mind of a human to dog for 24 hours.
3. Shitty confusion of mixing both the Ashoks and Kumars.
4. Sajid has introduced two new flavors of parathas in the movie, Cocaine Paratha and Vodka Paratha.
5. Pran and Rajendra Nath would have died if they were alive, by seeing their mimicry done by Saif Ali Khan.
6. If someone could have recovered from coma by reallocating wires, Schumacher would never have gone to coma.
7. If Akshay Kumar will see the urinating scene of Riteish, he'll surely ask him "Itna susu late kahan se ho?"
8. Price Charles seems to be consistent in Sajid's movies. In his previous films, he spoke Hindi and in this movie he is speaking Marathi. Don't get shocked if he starts speaking in Tamil in Sajid's next.
9. Ok now, the glass room where Johnny was kept (Mamaji 2) was broken by him by throwing Saif and Riteish out of it. So why was he waiting for so many years locked in that when he had chairs and sofas to crack that glass room?
10. Where the hell from did Chunkey Pandey arrived in the climax, when he was arrested in the case of drugs smuggling? Is there is no Punishment in the US for drugs smuggling?