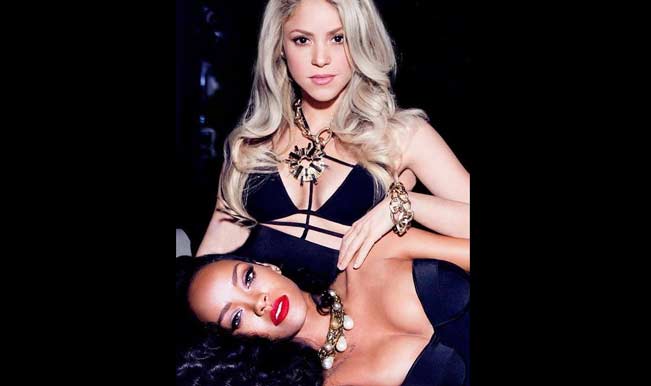 The Latin beauty has the right inclination towards dancing singing and writing songs. We all remember her performance at the Football world cup closing ceremony. Recently she came up with the album "Can't remember to forget you"; the collaboration for the same song with Rihanna wowed us all. The super sexy video gave us a glimpse of a lot of girl on girl action! They both shared amazing chemistry in the video which surely you wouldn't have missed out on. But it seems all this was to keep bay from the Latin Beauty's over protective hubby Gerard Piqué.
The soccer star has some problem with Shakira being featured with other men so he no longer allows her to film music videos with men. She confessed to it saying "He's very territorial. Since he no longer lets me do videos with men… I have to do them with women," she said
"It's more than implied in our relationship that I can't do videos like I used to. It's out of the question – which I like, by the way. I like that he protects his turf and he values me, in a way that the only person that he would ever let graze my thigh would be Rihanna." She added.
The song is reggae and has a nice vintage feel to it. The song combined reggae and rock spirit well .That's why Rihanna was the perfect ­feature in the song. When they featured together for the song it went to all together a new level of awesomeness. The intensity was amazing.
The racy video amazed the fans but did not go well with some politicians. The hip-swiveller has been slammed by a Colombian politician who calls her latest single's video 'immoral'. Marco Fidel Ramirez has started a petition to have his country's National Television Authority ban the music video, saying it promotes tobacco and lesbianism because the two ladies are seen smoking cigars and cuddling.
If you have missed out the video check out here.