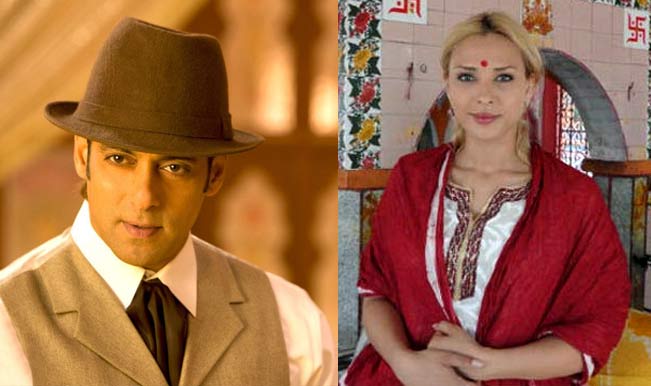 Salman Khan has been always asked when he is ready to tie the knot, and other questions related to marital bliss. It seems like the Bollywood superstar now is ready to shed off his singledom and finally espouse his love.
Salman has been allegedly dating Romanian beauty Iulia Vantur for quite a while now. And he gave us all a dash of surprise when he suggested that there is a possibility that he might get married soon to her. Rumours of Salman's alleged affair with lulia were doing the rounds in the industry last year and now the superstar has hinted that he will get married by the end of 2014.
"Now I'm in transit period and I like it. From the age of 15, I did not get a transit period. For the first time, I have such a chance to sigh. I am sighing more since it has been two-and-a-half years. It's time to stop sighing because something soon will happen in my life…I follow humanity. I follow Islam, Christianity, and follow right thing as much I can. I have been kind of blessed. Father is Pathan, mother is Hindu, second mother is Catholic, and brother-in-law is Punjabi. Wife, I am thinking to bring from outside…," Salman said.
He has been linked with his co-stars and other Bollywood beauties on and off, but this time it may be different. Or maybe not. 'Cos Salman's hint comes just before the release of the film O Teri, in which Iulia finally made her Bollywood debut with the item song Ummbakkum in O Teri. The masala song that features the two lead actors, Pulkit Samrat and Bilal Amrohi, has been sung by Mika Singh.
Ilulia looks strikingly beautiful in the item track. Being a singer herself, Iulia has even sung the number besides dancing to it. The actress has been styled by Ashley Rebello and Alvira Agnihotri for the song, which sees her in some racy outfits.Though Ummbakkum does not come across as a peppy number, but it sure does click for its wacky lyrics.
Salman will also be part of O Teri. He will be seen doing a cameo in the film, which is slated to release on March 28, 2014.
Salman has always helped people with their career in Bollywood. He is known as a man with a heart of gold and has helped many other actresses like Aishwarya Rai, Katrina Kaif, Sneha Ullal, Zarine Khan, Elli Avram, Asin and Daisy Shah who owe big time to Salman for their career. Iulia has also joined this bandwagon now.
We can't do anything but wait to see if the news of Salman and Iulia's wedding is actually true and or is it a publicity stunt. If it turns out to be the latter, we will end up saying – O Teri!
WATCH SONG: Iulia Vantur in Ummbakkum from O Teri
Photos: Publicity Stills