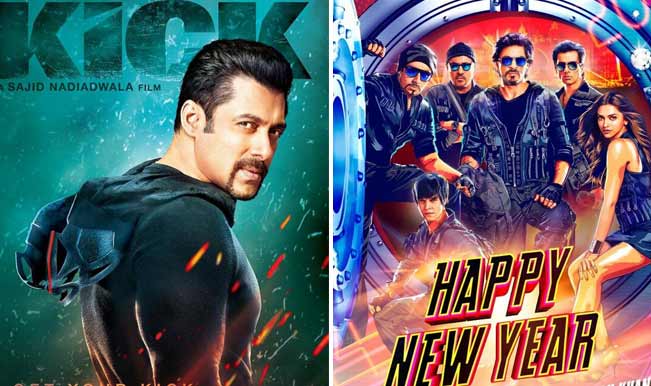 When B-town's two mighty Khans-Shah Rukh and Salman-have just a release each, in a year's time, the parallels are bound to be drawn. And the fact that the two have been waging a cold war of sorts, before hugging each other, suspiciously repeatedly, in the recent past, for the cameras to relish on the ' the historical occasions', only makes the comparison even intense.
We know in our heads that Kick and Happy New Year are dramatically different movies ,and drawing comparisons between the two is not really a fair thing to do. But when two archrivals splash themselves on the posters of their respective productions, we can't help but wonder which movie-still looks better and which Khan shines brighter!
While Salman Khan's Kick presents bhai as the ultimate draw on the poster, Shah Rukh's Happy New Year presents the shimmery star cast comprising Deepika Padukone, Boman Irani, Sonu Sood, and Abhishek Bachchan in a rather clumsy way. While Salman certainly stands out on the Kick movie-still with the charm that only he can create, SRK chooses to keep the affair glitzy and more glamorous with many elements thrown in. From the fonts to the special effects and from the color coordination to the display of star power, the two mighty Khans are vying for your attention with these visuals. But which megastar, in your opinion, looks more striking than the other? And above all else-do let us know which poster looks more exciting?