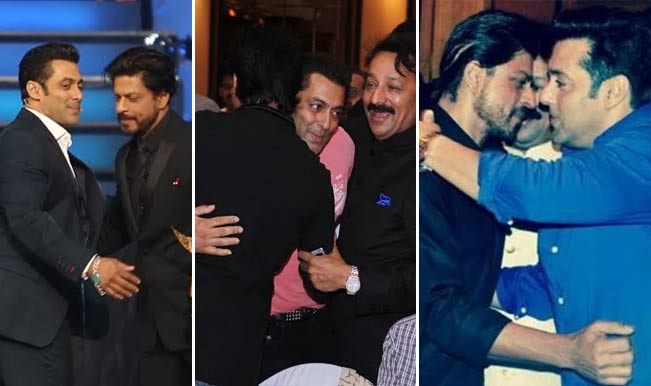 Battling for the top spot at the box-office, Shahrukh Khan and Salman Khan hugged each other 'again' at the Iftar party hosted by Baba Siddique this Sunday. This is the third time they have grabbed the attention by hugging each other. Iftar party 2013 was the first occasion, on which both were seen resolving their six-year old animosity. They again hugged at Start Guild Awards and it became the most talked topic all around. And now, they are back again with their trademark hug.
Hugging at Iftar party and ignoring each other the whole year, is this the end of the Khan-war or part of gaining publicity? The actors have always maintained distance, since the quarrel at actress Katrina Kaif's birthday bash in the year 2008. In these six long years, they always have neglected each other, each time they confronted. Kick is on the edge of its release, and Salman Khan is on the promoting spree for the movie. Previous time they hugged each other, Shahrukh Khan arrived with Chennai Express and Salman Khan said Jai Ho (pun intended)
Be it publicity, or a honest attempt for initiating friendship, this view will always be a treat to watch for the fans of both Khans.
This year, Bhai-Jaan is ready to 'Kick' the records and King Khan will greet 'Happy New Year' on Diwali.