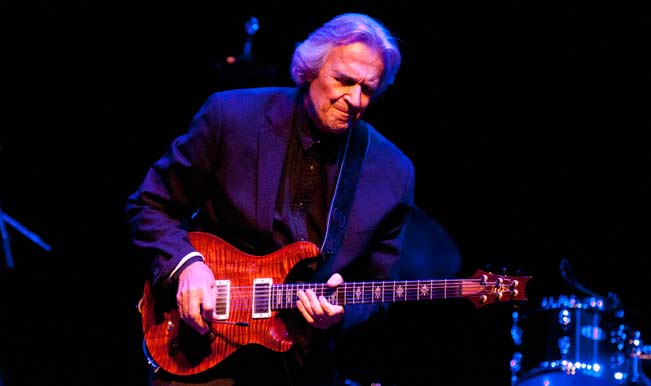 Renowned jazz guitarist John McLaughlin also known as Mahavishnu John McLaughlin and his band, The 4th Dimension performed performing in Mumbai on Saturday, 5 April, 2014.
McLaughlin donated his artiste fee for the live streaming to a charity that he supports – Al-mada.
Founded in 2009, Al-Mada Association for Arts- Based Community Development, is a Palestinian non-governmental organization that uses expressive arts therapies, specifically music therapy, and arts education to advance self expression, inclusion, healing, social justice and advocacy. through working with Palestine's most vulnerable communities.
The English guitarist, bandleader and composer was ranked 49th in The Rolling Stone magazine's list of the '100 Greatest Guitarists of All Time' in 2003. McLaughlin's music includes many genres of jazz, and rock, which he coupled with an interest in Indian classical music to become one of the pioneering figures in fusion. In 2010 guitarist Jeff Beck called him "the best guitarist alive".
McLaughlin is one of the greatest living jazz guitar legends of his time. His current band, The 4th Dimension, includes Etienne M`Bappe on the bass guitar, Gary Husband on keyboards and drums, and Ranjit Barot on drums and vocals.
When the history of the jazz guitar is written, John McLaughlin is sure to have a chapter of his own, and a deservedly large one.
His fans and own fellow guitarists have hailed him as the 'best guitarist alive'. In his career of over five decades McLaughlin has collaborated with musical legends – from Zakir Hussain to Jimi Hendrix.
The 4th Dimension band members who played with McLaughlin include drummer Ranjit Barot, bassist Etienne M'Bappe and keyboardist/drummer Gary Husband.