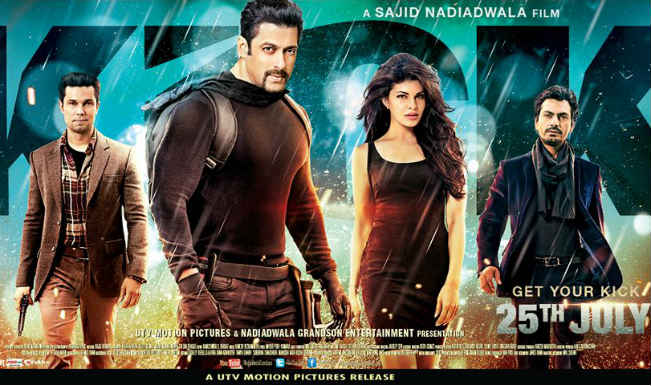 Replete with Salman Khan's trademark fan-pleasing moments, Sajid Nadiadwala's directorial debut worships the antics of its megastar in the loudest possible way. While Salman is seen kicking some bad asses in every second frame (that makes him Kick-ass, technically speaking, Ha!), Nadiadwala's directorial brilliance sedates your senses!
Let me begin this review with a categorical disclaimer that this piece is not a rant against the year's most awaited release. After all, one doesn't walk into the theater to watch a Salman Khan starrer hoping to fetch some select-Shakespearean quotes or expecting to get enlightened with an esoteric cinematic nirvana. It's a Salman movie in the end, and you know in your head what you are likely to be served on the platter.
Make no mistakes, I enjoyed bhai's Dabangg in all its Chulbul Pandey glory. Wanted, Bodyguard and Ready were watchable in parts and made me giggle, nevertheless. These were ridiculously crazy movies, but they were good fun. Sadly, Sajid Nadiadwala's Kick disappointed me in more ways than one. Honestly speaking, I felt cheated. I felt used!
"Main dil mein aata hoon, samajh main nahi!" goes a dialogue from Nadiadwala's directorial debut Kick-starring Salman Khan, Jacqueline Fernandez, Randeep Hooda and Nawazuddin Siddqui. As bhai mouths that line just before the end credits start rolling, one wonders if that dialogue was placed (unintentionally, of course! ) to sum up the 'Sallu-fest' one had to sit through (to review Kick ) only to be left with a numb butt and sedated senses. Such is the 'hangover' of Salman's latest offering that no 'kick' will ever pull you out of the exhaustion this one gives you.
The plot:  Devi Singh (Salman Khan) is not your average Joe. Blessed with supreme intelligence, incredible idiosyncrasies and the eternal hunger for a kick-the much needed rush of adrenaline he needs out of every situation he throws himself into, Devi is a stud born with a heart of gold. The man can't commit himself to any job and but he is ever-ready to offer help for the larger cause.
Life is full of action and unimaginable thrills for our hero, until he falls in love with a psychiatrist (Jacqueline Fernandez), thanks to a kick-offering, chance encounter. It doesn't take long for Devi to turns into Devil when he realizes that it's the money that makes the world go round. And now he needs more than his fair share of 'kicks' to make a living. Devi disappears from his lady love's life.
In the mean time, a cop with commendable credentials (Randeep Hooda) is on a relentless hunt, looking for a man who is responsible for giving him a hard time. Hooda's otherwise squeaky clean image gets tarnished thanks to a certain Devil who is on the loose. Steps in the bigger baddie ( Nawaz) with a menacing laugh and  deadlier plans to trap Devil in. Hooda, Nawaz and Jacqueline are looking for the same man who as elusive and he is intelligent.
 What went wrong?
The story looks good on paper-as indeed in the trailer. On the big screen though, with all its major loopholes and nauseating screenplay, it has turned into a mindless action drama. It is understood that like any other Salman film, Kick too offers never ending maar-dhaad, over-the-top emotions, high-pitched characters and juvenile jokes all packaged in the form of a mass entertainer. These elements are, in fact, very intrinsic in the design of this kind of venture. But you start feeling nausea once the silliness and the flat story-line start getting on your nerves.
Watch Kick only if you are looking for-or else, will be happy with-the following offerings 
Salman, Salman, Salman!
It's the Eid equivalent to 'entertainment, entertainment, entertainment!' Kick offers Salman Khan in almost every sequence, shot and frame. We see Salman-the charmer, with a scorching screen presence, in every scene. He almost plays himself throughout the movie to the extent that even while doing the emotional scenes his shoulders never slouch. Even when he pleads or kowtows, his 'muscle memory' just doesn't allow him to be the character he portrays. Come what may, the puffy chest and the bowling-ball shoulders stay resolutely stiff to signify the blunt bhai-speak.
What works brilliantly well though is Salman's camera presence and the ease with which he sleepwalks through this brain-dead plot. The 48-year-old knows how to draw those wolf whistles and loud cheers from the audiences. And this time around he withdraws those those mandatory responses without wiggling his belts, jiggling  the back-pockets of his pants or by moving  the collar of his starry shirt.
 Jacqueline Fernandez is lava hot!
India's best Sri Lankan import looks lava-hot in a movie which is not essentially designed for her. She flutters eyelashes, flashes gentle smile and dances ( and how! Thanks to that special wild dance moves sequence placed to showcase the girl's hot moves and long legs) The beauty has done justice to her role. She romances The mask of Zorro-esque star and looks pretty.
Dishy Randeep Hooda and promising Nawazuddin
While the former underplays, the latter displays theatricality when needed. While Hooda is subtle, restrained and effective in his role as the cop, Nawaz oscillate between being over-the-top and being subtle at the same time.
Opulent songs!
High-production values make this venture easy on the eye. Be the scenic location of Poland or the opulence of it's songs, Kick indulges whole- heartedly in creating the stuff regular escapist fanfares are made of. Every minute detail that has gone into it- from crafting couture to creating visual spectacle make this otherwise average movie look rich and colourful. Songs are beautifully shot and they are very elaborate indeed in terms of the visual delight they offer.
The Big let downs:
1 A devil is never a devil in our movies. A thug is never a thug in Kick. Every vicious twist and every menacing character (especially when that happens to be a hero) there has to be a back story to go through.
2. Our self righteous man is filled with heroic virtues to the-brink and he never earns big buck to impress his girlfriend (or to win her back by proving his mettle), but to find a bigger purpose…err a bugger kick rather- to serve humanity, you see, by 'Being Human' first. With Salman being the protagonist, it only makes the conclusion interesting. Just imagine how diligently he sticks to that formulaic plot.
3. An explosion a minute- with cars, planes and buses involved- without a concrete plot or griping sequences only stretches the duration of the movie and tests you patience endlessly. ( But nothing can compete watching a sloshed Salman Khan employing his self-choreographed, silly dance moves for an interesting viewing!)
Our verdict:
Kick could be a classic case study on how the Dabangg dude keeps churning out cores even by sleepwalking through a movie that demands to leave your brains at home. Watch it if you are a hardcore Salman Khan fan—or just to get a glimpse of the megastar's devotees squealing with joy as their demigod unleashes his kicks in a movie that takes our intelligence for granted and tests our patience simultaneously! 
Our rating : 2.5  STARS