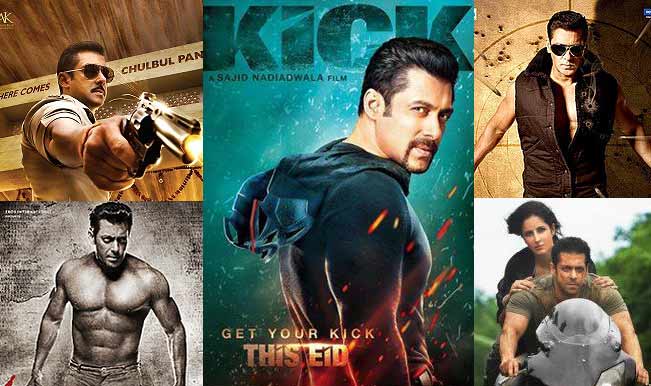 Salman Khan's movies are always largely dependent on its music. Tracking Salman Khan's previous record, he is dead-set on doing just commercial movies. Music plays a pivotal role in such movies. Couple of chartbusters is all you need to double-up the hype of the movie. Dhinka Chika, Jalwa, Desi Beat are some of the most popular songs of Salman Khan. Recently launched, Kick's music has been trashed by the critics. The same was done with Salman's previous movie Jai Ho.
Bhai is known for meddling in the process of music direction for his movies. Salman's last block-buster song was Fevicol Se from Dabangg 2; it was released way back in 2012. In the middle of super-hit music albums such as Wanted and Dabangg, Kick's music in comparison is not that great, we think!
Slated to release on 25th July, Kick's music garnered negative response all over. The first song launched Jumme Ki Raat was declared average, as it failed to gain the chart-buster tag. The buzz amongst Salman fans was on peak, when they came to know about their favorite star lending his voice for the first time.
Hangover destroyed the expectations as it proved to be another dud. One can imagine how lousy the music could be when even Honey Singh fails to replicate his magic. After the decent success of Exposé, Himesh Reshammiya has fallen short with Kick. The humongous buzz created by the trailer was lowered by the average music album of the movie.
After the enormous success of Ek Tha Tiger and Dabangg 2, Salman Khan was back on the silver screen after a year with Jai Ho. With likeable trailer, the movie amassed huge buzz with two chartbusters songs in Baaki Sab First Class Hai and Photocopy. Romantic track Tera Naina Maar Hi Daalenge was also received very well by the audience. Music by Sajid-Wajid was not 'Salman' standard but still it ruled the charts for few weeks.
Dabangg 2 was the sequel to Salman Khan's all time blockbuster Dabangg. The prequel's music was the benchmark in music director Sajid-Wajid's career. Expectations were huge from them with Dabangg 2 and the talented dup didn't disappoint. Fevicol Se shattered the record of Sheila Ki Jawani by ruling the top spot for 16 weeks.
Set lavishly on a grand scale, Ek Tha Tiger is undoubtedly the most stylish film of Salman Khan. Shot with an extravagant budget of 75 crore, the music of this movie was successful because of its blazing videos. Starring Katrina Kaif, Mashallah ruled the youtube and currently has 23 million views on it. Music by Sohail Sen comprised a mix-bag of romantic, sad and party tracks. Saiyaara by Mohit Chahuhan topped the playlist of lovers back then.
Composed by Himesh Reshammiya, Bodyguard was one of the most successful music albums of 2011. Bodyguard (Title), Desi Beat, and I Love You were among the top 5 songs of the year. The title song became the signature song of Salman Khan.