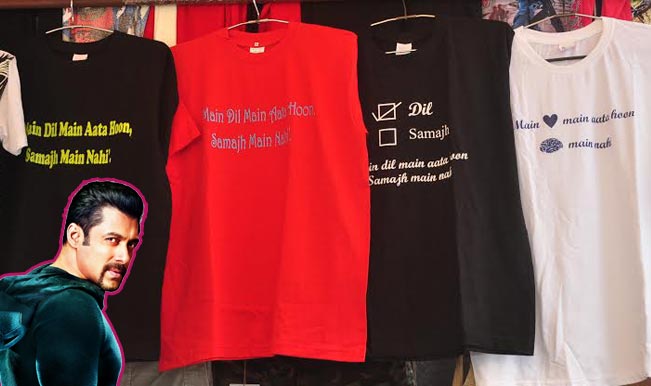 Salman Khan is everywhere these days. With the much awaited release of his forthcoming movie Kick, the 48-year-old megastar is making his mighty presence felt on the hoarding, on the computer and mobile screens ( not to forget on our idiot boxes). He is in the headlines and even adorning the covers of  our popular glossies. And guess what? It's not just Sallu who is seen everywhere but the lines he mouths in the movie are also making tremendous buzz.
One particular dialogue of Salman Khan's upcoming next film, Kick has become the current flavor among the audiences. The dialogue, "Dil mein aata hoon samajh mein nahi" has become so popular that we spotted a fashion street in Mumbai selling Tshirts with the dialogue printed on it.
The filmi line, which is also a part of the trailer of the film, that got the highest number of views, has caught on in a big way.The line is personally very close to Salman's personality and explains him the best.The star Khan himself liked the dialogue so much that he gifted a wrist watch to Rajat Arora who is the dialogue writer of the film.
The T-shirts are made with interesting designs, fonts and colours and were put up on the display of some shops.Not just put up there, we even spotted some fans of the star Khan buy the T-shirts from there and wear it with a huge smile. The dialogue not only fetched whistles and claps from the audiences on the launch of the trailer but a lot of fans also put the dialogue up on their social networking accounts.