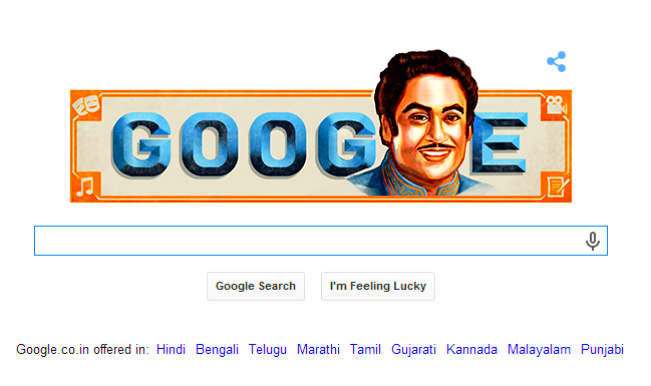 Kishore Kumar is undoubtedly one of the greatest name to be part of Indian cinema industry. Today's Google doodle made for the legendary India film star is certainly a very classic and artistic in taste. The doodle is kept simple with the letters GOOGLE placed along with the ever-smiling sketch of Kishore Kumar. If the users paid more attention to the doodle, they would notice the four different symbols at the four corners of the doodle. These four symbols represent the four elements of the multifaceted person Kishore Kumar had been.  The symbols in the clock-wise are related to acting shown by the two happy and sad masks, second one is the camera that marked Kishore Kumar as director, the third symbol of musical note highlights Kumar as the singer while the fourth symbol of notepad and pen reflects Kishore Kumar as the screenplay writer and script writer.
Kishore Kumar was born on August 4, 1929 in Khandwa (present day Madhya Pradesh). And on his 85th birthday, search engine giants Google presented this classic doodle in the memory of the actor-singer. Kishore Kumar remains to be one of the lovable yet enigmatic personality ever been in Bollywood.
Kishore Kumar born as Abhas Kumar Ganguly entered the cine industry as the chorus singer at Bombay Talkies, where his brother worked. His made his first film appearance in Shikari (1946), the same film in which his brother Ashok Kumar played the lead role. Kishore Kumar's first film as the lead hero was Andolan (1951) directed by Phani Majumdar.
Kishore Kumar has given voice to a range of leading heroes with the likes of Rajesh Khanna, Amitabh Bachchan, Dharmendra, Jeetendra, Sanjeev Kumar, Dev Anand, Shashi Kapoor, Mithun Chakraborty, Vinod Khanna, Dilip Kumar, Randhir Kapoor, Rishi Kapoor, Rajiv Kapoor, Sanjay Dutt, Sunny Deol, Anil Kapoor, Rakesh Roshan, Dilip Kumar, Pran, Sachin, Vinod Mehra, Chunky Pandey, Kumar Gaurav, Govinda and Jackie Shroff.  Kishore Kumar has won 8 Filmfare Awards for Best Male Playback Singer and still holds the record for winning the most Filmfare Awards in that category.
Kishore Kumar married four times; his wives were Bengali singer and actress Ruma Guha Thakurta, second wife being legendary actress Madhubala, third wife was yet another actress Yogeeta Bali and the fourth wife was Leena Chandavarkar until his death. Some called him a loner while for others he remained the Guru fo Sunil Dutt's character from Padosan movie. He may have had several personalities but Kishore Kumar remains to be the biggest name ever been to grace the celluloid world.