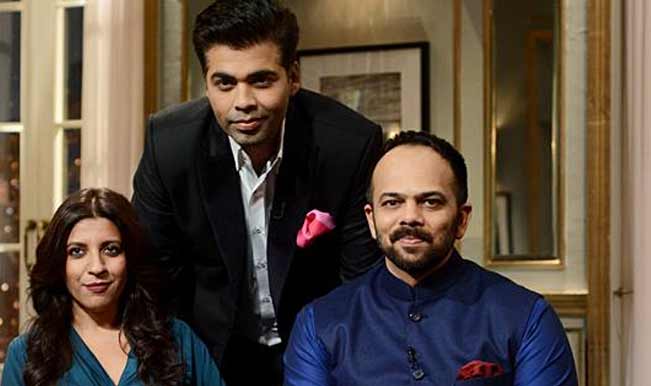 Koffee with Karan featuring Zoya Akhtar and Rohit Shetty was a like a fresh breeze. Zoya  was witty in her comebacks and Rohit Shetty came in with his sense of humor. The episode was witty and intellectual, with all the pros and cons of being a director. It seemed like a three directors chilling over a cup of coffee.
When it came to rapid fire round, Zoya Akhtar answered every question in a very straight forward and witty way. There was no drama and no hide and seek. However, we noticed that she has a thing for Saif Ali Khan, she said that Saif is the most under-rated actor and that she finds him really hot. Also, She narrated a fun incidence with Bebo where she was told by Kareena that you won't be able to make movies. We guess, Zoya shares a love and hate relationship with Saifeena.
Zoya was also bold enough to say that Vicky Donor was the most over rated movie, and that she was quite disappointed when she watched it. When it came to winning the beautiful coffee hamper, both of them were fierce and determined to win it, but at the end, Rohit Shetty swept away the coffee hamper.
All in all, it was good episode. If you missed this fun and witty episode then go ahead and click the play button!