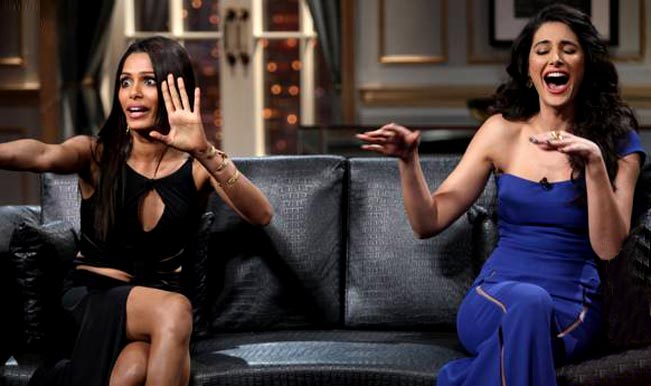 If you were disappointed with the India Vs Pakistan match, these two hotties totally saved the day on Koffee with Karan! The dusky hottie Freida Pinto and pout queen Nargis Fakhri literally made the atmosphere smoky with their wit and bold comebacks. Freidalooked every bit of stunning in a black Shivan and Narresh cut-out dress while Nargis sizzled in lovely blue Monica Jaising dress. The duo connected with each other like they were BFFs and Karan Johar finally found some company for his oh-so-sexual remarks.
While the Slumdog Millionaire star was very open about her relationship with Dev Patel, Nargis bashfully avoided Uday Chopra's topic, but didn't completely denying it! When it came to the Rapid Fire round, Nargis called Ranbir Kapoor as Mumma's boy and Gossip Queen, on the other hand, Freida stated that he is the hottest star in Bollywood as of now. So, we guess Ranbir's Fan club has an addition of an International beauty!
When Karan asked Freida about the age gap between Dev and her, she admitted that she somewhere felt like a 'Female Paedophile' when she started dating him but then after that it was all 'sugar 'n' spice and everything nice'!  The duo also made passes at each other and talked about having a threesome. When they were ask to pick the partner, their chose Deepika Padukone to be their partner in crime. We wonder, what will be Deepika's reaction on this.
The episode was a complete cracker! If you haven't watched it already, then we would suggest you to watch it and don't forget to tell us what did you think of this episode.