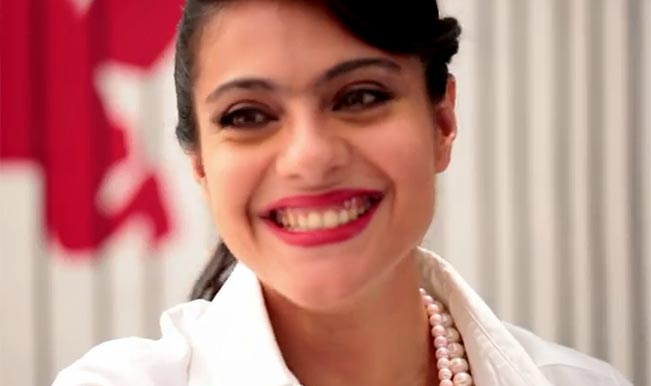 The moment she turns up to chat with her friend Niranjan Iyengar for his newly-minted chat show, Look Who's Talking with Niranjan, Kajol makes no fuss about the fact that she knows pretty clearly who the boss in this set-up is….it's her!
Loud as always, as effervescent as only she could be, and almost always giggly, Kajol has no pretentious airs about herself. The pristine white top paired up nicely with a pleated black skirt, Kajol projects this suspiciously alluring demeanour of a seasoned and glamorous diva.
With the dramatic red pout, the classy hairdo and the pearls she's wearing, Kajol gives you a false impression that she will be seen as this sophisticated movie star, on the show, who will measure her words cautiously. And within a second she deconstructs that  pre-conceived notion and starts being who she has always been, as we all know her, a total firecracker, who speaks her mind, no matter what! Her energy is infectious, her smile radiant and the glow on her face never-diminishing.
From turning down THE Mani Ratnam's Dil Se for Karan Johar's debut movie to why she feels that her kids Nysa and Yuga are her best teachers who help her evolve-both as a mother and as an individual-continually, and revisiting the moment when she felt that Ajay was the man for her-Kajol discusses everything without holding back her rebellious self. Take a look!