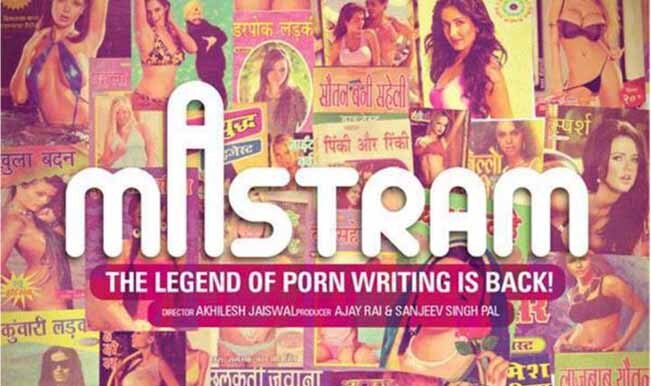 Starting off with a disclaimer in Hindi stating that the sensations and feelings (perverse thoughts and of lust) felt by watching the trailer will be your responsibility to indulge in your dark secrets, Mastram trailer tells you that this is not going to be a family entertainer (with a name like that we sure no, right?). A slide declaring that the story is based in the 1980s goes straight to the point of lust which hits almost everyone by the age of 16.
The protagonist, clearly not a school going boy, wearing a school uniform while leching at the older woman from next door or the woman who delivers the milk or the house maid all seem to aching between the legs to be overpowered by Rahul (Rahul Bagga). (Yo Yo Honey Singh's best songs?)
He seems to flustered to find the right mix of emotions, stories and entertainment so that his book gets published. The feedback which he interprets according to the people he meets shower their own understanding of masala from a tea seller to soft porn films.
With the limited understanding and hormones jumping inside him, he vows to make an entertaining book and indulges in firsthand experience of lust with many partners so that he can experience and write his version of what might get his book to sell.
What do you expect next? His book gets published with a cheesy font and cheaply made illustration of a provocative woman wearing the bare minimum. The book sells like cheap hot cakes in a blizzard and lands up in the hands of a diverse audience ranging from youths to army men to rickshaw drivers with some choosing to read it alone while others reading in a group. Kids wait till the warden has done his nightly rounds to open the world of text pornography as they read, visualize and feel the arousing text running through their body.
Obvious words like sexy seem dirtier when read in Hindi and that is what Rahul's book does for the sexually frustrated people of the small town. (Craziest characters from Gangs of Wasseypur)
He grows up as he goes through more women elevating his class and wants in women, starts smoking, gets slapped, shuts down as the world passes him, random flashes of cleavage and the vision of a time when people will not need to hide their sexual tension as an inner evil as a secret but one which must be controlled but must be unleashed.
Check out the trailer for the first feature porn film of the year.
The film stars Kapil Dubey, Rahul Bagga, Tara-Alisha Berry, Vinod Nahardih, Istiyak Khan and Akash Dhaiya among others. The writer of Gangs of Wasseypur I and Gangs of Wasseypur II, Abhishek Jaiswal, has written and directed Mastram which will release on May 1, 2014.