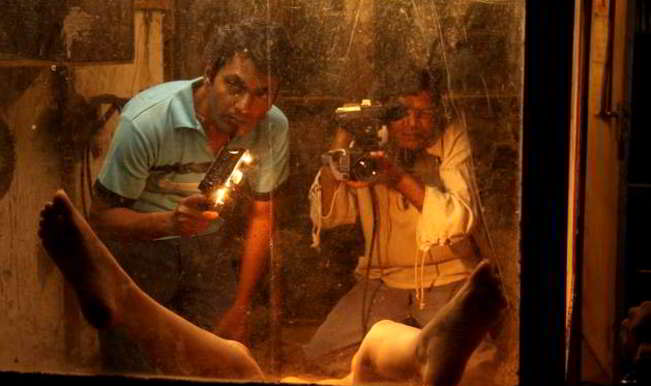 There are two kinds of good movies in the world – the first kind leaves you elated or happy after watching it as you measure it against other movies you've seen and praise its script, narration, acting and other cinematic characteristics based on previously-defined variables.  The other kind leaves you asking WTF did I just see (not in the Dhoom 3 way) and Miss Lovely certainly belongs to the latter because Indian cinema has never seen a movie like this. It certainly won't make a dent in the box office but will go down as a cult classic, pretty much like the C-grade cinemas it pays homage to. But there's some intangible quality in this flick which started off as a documentary on C-grade cinema and ended up being Ashim Ahluwalia's first full-fledged feature film. In fact, the last time I felt this type of elation while watching a movie; it was when I first saw Martin Scorsese's Taxi Driver and was simply blown away by Robert De Niro's portrayal of Travis Bickle.
Plot: Brothers Vicky (Anil George) and Sonu Duggal (Nawazuddin Siddiqui) are C-grade (desi porn and horror) cinema-makers who get noticed by the big players who want to make some money of mankind's desire for sleaze, horror and depravity. However, Sonu can't abide by this and wants to actually make a romantic film called Miss Lovely with the girl he loves but realises that things aren't the way they seem. In time, the police get tipped off about the sleaze fest and move in to protect the nation's morality.
Cast
Nawazuddin Siddiqui as Sonu
Niharika Singh as Pinky
Anil George as Vicky
Zeena Bhatia as Poonam
Menaka Lalwani as Nadia
Performances: There is a documentary feel to this and at times you get the feeling that people aren't acting at all (the director admitted using shots when they weren't actually acting but reacting to real-life situations). While many of the people seen in this movie are actually C-grade actors and actresses, they turn in a majestic performance but the star of the show is Nawazuddin Siddiqui. This was actually his first lead performance (Gangs of Wasseypur 2 just got theatrically released earlier) and there's almost a vibe that he's depicting instances of his own life – the struggles of doing bit-part roles in Bollywood. While Anil George's performance is believable as the king of C-grade cinema who can't believe his bosses make so much more money from it than he does, Zeena Bhatia turns in an amazing performance as a retiring actress who can't deal with her sinking star status. Niharika Singh was also good as the star-eyed girl who will fall in love with any man who will make her a movie star and probably represents the thousands who arrive in Mumbai every day with the same dream.
Conclusion: The movie is a cult classic and isn't for everyone, it requires a certain acquired taste. It definitely isn't for the squeamish of heart or those who want their movies cut and dried, with a hero emerging victorious. It's for those who can appreciate that humans are in essence depraved beings who will do anything for a few thrills on the sly but never admit it in public. It's a criticism of the fake morality that has plagued India, a tribute to sexploitation films that have given many people a lot of joy over the years and the kind of surreal cinema that we hope Ashmi Ahluwali and his creed continue to make.
Note to the censor board: We read you edited a lot of things out of this movie including police tyranny which begs the question, why are the authorities so scared of anything that registers on the so-called immoral compass or depicts reality? The fact that some of the Mumbai gang rapists were found watching DDLJ after their crime notwithstanding (not a post hoc ergo propter hoc argument), do you really think people are so dumb that they'll do anything they watch onscreen? Stop protecting our morality.
Loved our articles? For more follow India.com on Facebook, Twitter and Google Plus.