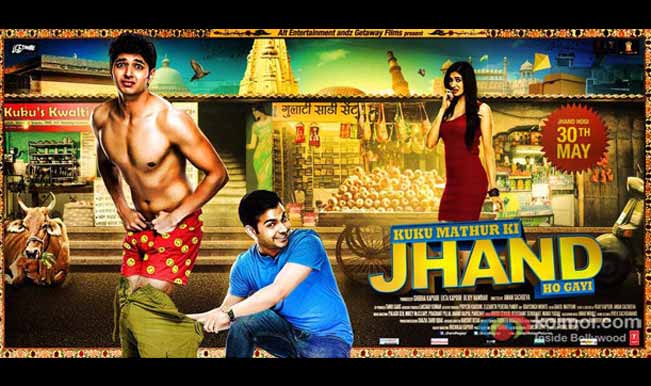 Rating: **
Kuku Mathur Ki Jhand Hogai- yes, the name does sound weird but that's because there is nothing normal about the film.
The movie is about Kuku Sharma, who is an underdog. He gets insulted by everyone and nobody ever takes him seriously. The only thing good about Kuku is that he cooks deliciously yummy food. The story of the movie revolves around two best buddies, Kuku Sharma and Ronnie Gulati. Kuku and Ronnie have been the best of friends since their bachpann and are these two typically extremely vella boys of their colonies in New Delhi. Good for nothing, Kuku and Ronnie somehow manage to get high scores in their final exams and that's when one of the chaddi buddies, Ronnie starts his own life. Ronnie gets real busy with his family business and poor Kuku is still vella.
Suddenly Kuku's life starts to a nosedive. He doesn't get admission into colleges, begins to struggle and starts to look for work. He starts working as a spot boy in a film unit where he gets insulted all the time, the girl he has a crush on since seven years is dating some other guy from the colony, and his vella best friend has no time for him.
Then comes into the picture Kuku's cousin, Prabhakar Bhaiya- a big jugaadu. He decides to bring looser Kuku's life back on track by suggesting him certain shortcuts to start his own business. The jugaadu bhaiya's plan is a big success and voila! Kuku has his very own restaurant. All of this leads to Kuku falling into a bigger mess.
The movie becomes somewhat tolerable and bearable after the interval. The movie has a spoof in Nirmal Baba which is the best part of the movie. The soundtrack of this movie has been composed by Anu Malik, but the movie doesn't really have any songs in it. The not- so- famous Tarzan song doesn't appear anywhere neither in the film nor after or before the movie.
Produced by Ekta Kapoor, Kuku Mathur ki Jhand Hogai is an average movie with a very ordinary story. The dialogues of the movie are way too boring. Newbie Siddharth Gupta, a.k.a Kuku does look cute but doesn't really know how to act! Throughout the entire movie, he looks dumb, he acts dumb! However, the hazel brown- eyed actor makes a cute pair with Miss India Universe 2008, Simran Kaur Mundi who is also in the movie.
Watch the movie if you have done everything you wanted to do and there really is nothing much left in your life.