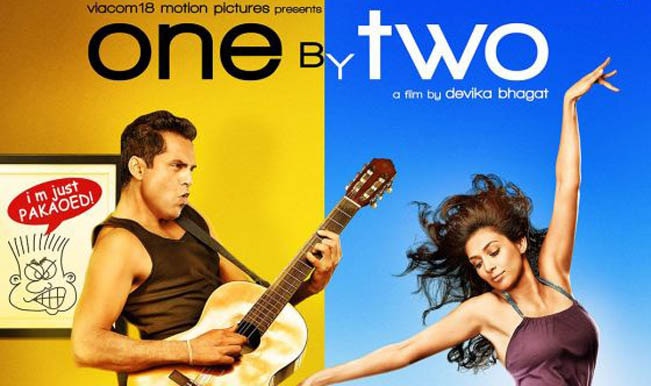 Ever since Dev D and most of his following roles, Abhay Deol has proved that the underbelly of society and the seemingly odd roles are his area of expertise. He proved this notion wrong with a good and arguably brilliant performance in Zindagi Na Milegi Dobara but One By Two, he has really messed up his image in every possible way.
No one knows how high he was or how drunk or maybe he was blackmailed by his real life girlfriend to launch her soon because the film is absolutely crap. It is a strong word but despite watching uber crappy films before, I have never had the genuine feeling to walk out of the theatre at interval or even before in the hopes that the film might be a late bloomer and maybe there will be some element that I will appreciate but it seems like the better half of most college fest films made on a shoestring budget have better character.
I was utterly disappointed with Abhay Deol because it was his acting and him alone that I went to watch the film for. The trailer was not brilliant but it made me curious to what the two pakaoed people do to break out of the melancholy of their lives.
***Spoilers Ahead***
Story – There is no story
The words continuity, connect and storyline bear absolutely no resemblance to this film.
Abhay Deol
After Dev D, Manorama Six Feet Under and Oye Lucky! Lucky Oye !, this is what you have to give us. Abhay Deol's worst acting performance, yet.
Preeti Desai
Preeti Desai is the bionic woman with little or no expressions and she shouldn't put all her eggs in her acting basket, ever.
Characters
Everybody except for Abhay Deol's father, mother and probably his uncle, seem to be nothing but misfits.
Songs
Abhay Deol is a struggling song writer and even when he makes it big for a popular song in the film, all the songs and music is very drab. I'm Just Pakaoed is probably the most bearable song.
Advertising to the max
From opening his fridge to show all three bottles of Gatorade, to trying Fastrack shades to several other products, it feels like an extended advertisement right from the first 10 minutes of the film. I shouldn't be bothered by this but the film is so crappy that nitpicking has had a snowballing effect.
Check out the trailer again which was obviously made by a trailer expert.