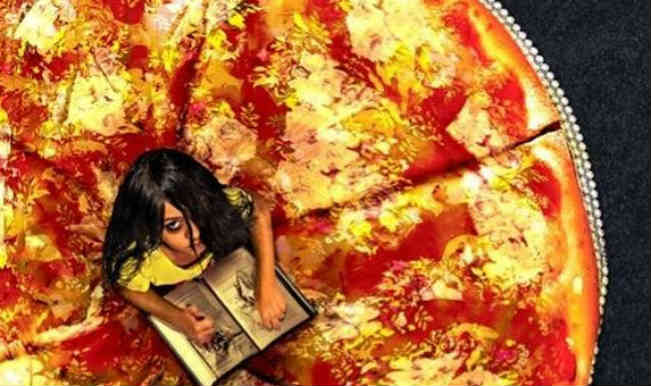 Unlike your regular spook-fest, director Akshay Akkineni whips up a really interesting recipe in the form of his new horror flick Pizza  (in 3D). We tell you why you must sink your teeth into this one, at your own risk!
So what's crispy (hot and haunted, actually) about it?
1.The plot: When a Pizza delivery boy Kunal (Akshay Oberoi) enters a bungalow that's filled with deep, dark secrets, little does he know that his job has gotten him into a big trouble. Suddenly, Kunal finds himself get locked away in a place that has been haunted for years with paranormal elements, who don't mind showing up in their deadliest avatars. Armed only with a torch and a disconnected telephone, Kunal must escape the house.
 2.It's interestingly spooky: From creepy creatures crawling around to half-rotten dead bodies walking in slow-mo, Pizza leaves no stone unturned to send chills down your spine. Though there's hardly any path-breaking innovation in terms of offering those creepy ghosts in a more thrilling and interesting way, Dipannita Sharma, Arunoday Singh and a child ghost don't fail to dish out spooky moments. Watch out for a scene in which the otherwise cute baby ghost spews a blob of black gooey matter in your face, in 3D! (you will certainly prefer Spider-man ejecting his…errr sticky cobweb better)
 3. The twist works: (warning: spoiler ahead)- Truth is stranger than fiction (mainly because fiction is obliged to stick to possibilities; Truth isn't.) Remember how Aamir Khan's Talaash proved that notion by introducing a supernatural element to conclude the otherwise engaging drama ( only to invite the wrath and some bad reviews from the critics) Pizza works exactly reversely. ( All right then, we are not saying a word beyond that, for our detailing will only dampen the taste and the essence of this..err Pizza )
It has remained half-baked coz..
4.The narration: The liberal transition of the horror tale from fiction to fact lacks shock value. The twist doesn't surprise you to the extent that you want to jump out of your seat-if not out of your skin. It simply draws a sigh of relief to acknowledge that the makers have tried to pull off something hatke (in the end)
5.The muddled ending: The cast of the movie has done it's job well. (Dipannita and Arunoday have got their dead-pan zombie expressions spot on, kudos!) Akshay Oberoi has played his part well by exploiting his fears with maturity and restraint. The sound effect, use of 3D (though highly underused and intelligently restrained) and sharp editing works well. But the bizarre end ( fact to fiction and back to an unconvincing fact-you get it only when you watch it!) leaves a memorable taste in your mouth, but you find yourself craving a more logical end.
Our verdict: Catch Pizza on a rainy weekend afternoon majorly because it's a breezy watch. You might like the (hot-and-haunted) toppings served up in a different way, but we are not sure if you have the palate for the cheesy twist it offers in the end!
Our rating: 2.5 stars