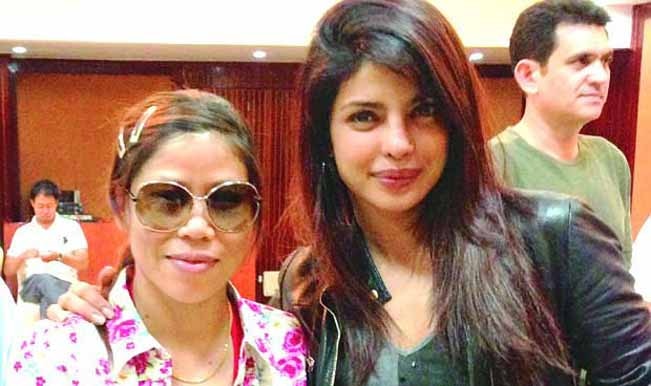 It is well known that Priyanka Chopra will be playing the part of the Olympic medal-winning pugilist Mary Kom. The movie is directed by debutant Omung Kumar. Although she admits she hates being in the gym she has put in a lot of efforts for this film and has never felt more pressurized before, since this is the first time she is to portray a living legend. This is the most awaited biopic in the industry.
She has started working on the Sanjay Leela Bhansali movie. She was recently spotted in Mumbai shooting for one of the scenes for the same movie. Dressed up in her sporty best attire she was seen in the boxing ring packing a fair punch. The images are going viral on social networking sites hinting that people are loving her in this avatar. Also her physical transformation is one of the main feature people are looking forward to.
The actress has been working hard for this role. She made many trips to Mary Kom's homeland Manipur to get into the skin of the character .She also compromised on personal affairs like her cousins wedding to be part of this movie. Piggy Chops believes that she relates well with the living legend and has something in common.
"Her story is same as that of mine. I too struggled when I came in the industry and cried alone. It is basically the story of every girl, who has a dream," Chopra said
"What fascinates me about her is that I wanted to tell the story of real Mary," the actress said, adding that the story about the female sportswoman has never been told through the medium of films in India. Although Mary is a boxer, she is a typical girl who wears nail paint beneath her boxing gloves, Chopra said. "She loves singing, watching movies and everything that a girl likes," the actress added.
Looks like the actress is all set to punch her way through earning her spurs, determined to win it all! How did you like her sporty avatar?